You're in luck if you've been looking for the best pediatric dentist El Cajon residents can find. Here at Children's Braces and Dentistry, we focus on providing fantastic care for young people and employing a range of specialist techniques that help them feel right at home in the dentist's chair.
Taking your child to a specialist who knows how to make children feel at ease during their consultations is essential for their oral care. How do you go about choosing the right place for your kid? What makes the best of the best?
Parents are right in asking themselves all these questions. After all, our kids are worth all the efforts we make to ensure they receive the best we can get for them. Let's go ahead and discuss what makes us the best in the El Cajon area; we want to cover everything you need to know about pediatric dentistry.
When Should I Take My Child to the Dentist?
The American Academy of Pediatric Dentistry (AAPD) recommends that a child goes to the dentist by age 1 or within six months after the first tooth erupts.
Primary teeth typically begin growing at around 6 months of age. Your child's first visit often lasts 30 to 45 minutes. Depending on your child's age, the visit may include a complete exam of the teeth, jaws, bite, gums, and oral tissues to check growth and development.
After these first few visits, your child should come back regularly around every six months. This frequent review of your kid's dental development puts us in a unique position to spot and diagnose issues early on that could mean bigger problems later.
We understand you might think your child is too young to sit in a dentist's chair. But don't worry, Pediatric Dentists use special techniques and tricks that can make children feel comfortable and less worried during the procedure.
They also use the equipment designed for children so that they can effectively provide quality care to your child's oral health.
By taking your child to a pediatric dentist, you will help detect any early signs and indications of potential health problems like tooth decay and cavities.
If the specialist detects any such decay, they could administer treatment as early as possible, preventing the problem from continuing to an advanced stage, where treatment costs might be higher, and treatment length might also increase.
What Treatments Can Your Kid Get With Pediatric Dentistry in El Cajon?
Your El Cajon pediatric dentist is your child's best friend when it comes to oral health, from infancy through adolescence. Dr. Surrillo and the staff can help your child get the protection they need against oral health conditions resulting in long-term problems and lifelong complications.
An early start can be the key to your child's happy and healthy smile. There are many treatments your chosen Pediatric Dentist may offer for your child; some of these treatments include:
Oral health exams for infants
Risk assessment of decay and cavities.
Preventive treatments
Early detection of oral health
Treatment and care for dental injuries such as a pulpectomy
Habit counseling for the use of a pacifier and thumb sucking
Prevention, management, and treatment of gum and periodontal diseases
Remember, each child's development is different, and they have different needs. At our practice, we have a commitment to treat and help kids to achieve a beautiful, bright and radiant smile that makes them feel confident throughout their lives.
We'll do our best to make your visit comfortable, caring, and even fun! And all the while, we'll be providing you with the highest quality dentistry for children. Don't be surprised if it's the best time you and your child have had in a dental office.
We work hard to teach your child about the importance of good dental care; we likewise leverage state-of-the-art treatments and technology to ensure that their teeth stay in good condition for the rest of their lives.
Prevention With Fluoride
Prevention is always the wisest decision when it comes to dental healthcare. Our teeth have natural defenses, though children's teeth are more vulnerable to tooth decay than adults. This vulnerability results from a weaker enamel layer around primary teeth.
We use fluoride treatments to help teeth reabsorb minerals and stay strong against the attacks of harmful bacteria. When they are old enough, they can get a reinforcing fluoride treatment to help stave off tooth decay.
Keep in mind that your child will also get some fluoride from their food and even the water they drink, so it's important that we use this treatment when it's necessary. We have the required treatment to determine when your child's teeth need a little help with fluoride, so bringing them here for a consultation is ideal.
The Importance of Saving Baby Teeth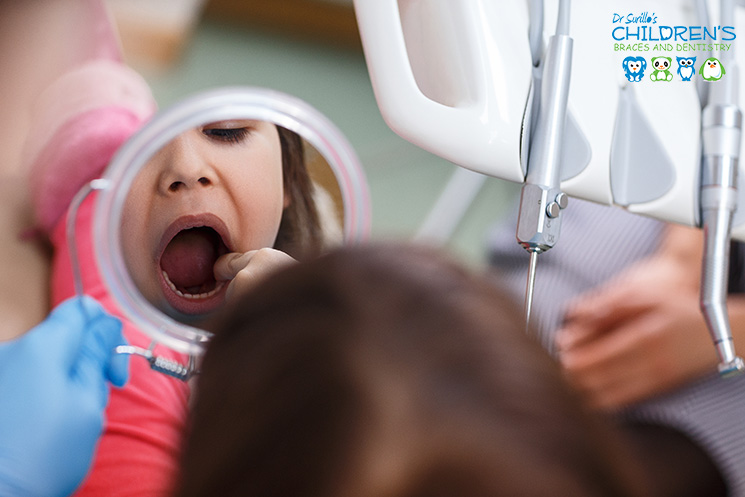 Parents often think that because their child's primary teeth will fall off on their own, it won't matter if there's a little decay in them.
This is regrettable because of two main points. First, according to the Centers for Disease Control and Prevention (CDC), 45.8% of all kids aged 2-19 have some type of dental caries. Second, many parents are unaware of the real importance that primary teeth truly have.
All this means children in the US are very likely to suffer from some type of dental decay and, because they don't enjoy proper professional dental help, they are more likely to develop additional dental complications such as orthodontic problems.
Pediatric dentists recognize the importance of saving baby teeth whenever they're endangered by poor oral hygiene conditions or other genetic factors. We can perform other restorative dentistry procedures to help your kid keep a healthy set of baby teeth or at least maintain the tooth's structural integrity to avoid function loss.
Teeth are necessary for proper nutrition and speech development, and we'll do everything we can to save them.
Conscious Sedation for Anxious Children
It is perfectly normal and natural for children to feel a little anxious when they go to the dentist. Heck, it is something that affects a lot of adults too.
For this reason, we offer conscious sedation – a safe and effective technique that is ideal for apprehensive children, those who are very young, or those with special needs.
The way conscious sedation works is straightforward. We give medication that allows the child to relax and reduces their fear of treatment. It is not an anesthetic, so it does not eliminate consciousness.
The child can still respond to the world around them, and their airway reflexes remain intact. The only difference is that their fear of the procedure disappears, and they may not be able to respond to detailed questions during the time over which the drug remains active in their system.
Conscious sedation is often vital for ensuring that your child gets the dental care that they need. If they are worried about going to the dentist, then it can make getting treatment difficult.
Conscious sedation and other techniques can help massively reduce anxiety and encourage children to return to the dentist in the future.
Highly Experienced Specialist Dentists
Parents want their dentists to have a lot of experience and knowledge in the field – and that's precisely what we offer as the best Pediatric Dentistry in El Cajon.
Dr. Surillo gained his passion for dentistry by learning from his father, and his Master's Thesis on Skeletal Jaw Classifications helped redefine modern diagnosis and treatment planning in children.
Our specialist is a second-generation dentist who is passionate about providing oral care for children. He recognizes that if you can instill good oral health habits from a young age, then you can protect the child for life, reducing dental care bills in the future.
All this means that our vast experience and knowledge inform the best treatment planning and work. Early action will mean long-lasting benefits for your child's dental health too.
Backed by Our Education and Certifications
Anyone who wants to work in the dental industry must attend dental school to become a dentist. Once they graduate, they can start their practice. Furthering their education to get into pediatric dentistry or orthodontics means taking courses and getting clinical experience.
Residencies only take about two years to complete, and these programs are specialized to cover essential topics like growth and development, tooth trauma, child behavior, preventative care, and more.
They will also require extensive research and clinical work to gain the proper experience of working with children and providing them dental care.
Once they finish all requirements, they must complete and pass a specialty exam or complete a residency to obtain a license to practice general dentistry. After this, the American Board of Pediatric Dentistry certifies the professional.
Dr. Surillo has more than 20 years of experience treating children, teenagers, and young adults and is one of only a handful of dually trained specialists in the El Cajon area. He is a specialist in both pediatric dentistry and orthodontics. He earned his qualifications at the UCLA School of Dentistry in 1995 and received a Master of Science in Oral biology.
Continued Education
Dental care and medicine move at a rapid rate. Some of these new technologies and techniques can help your pediatric or family dentist give you the best care. However, it is not uncommon to find some dentists who aren't updated and do not practice current policies.
Look for a pediatric dentist like us who is up to date on all the latest technologies and methods. This will ensure that you get the best care with the most modern techniques.
Research the Best Pediatric Dentistry in El Cajon
Finding the best pediatric dentistry in El Cajon doesn't need to be a challenge. The friendly atmosphere at our practice, combined with the behavioral expertise of our practitioners, inspires confidence and is one of the reasons parents come back to us, time and time again.
You should begin by looking at a list of dentists in the area. Ideally, you don't want to travel too far to get to the dentist. Start asking friends and family for their opinion on their pediatric dentists. Word of mouth recommendations is some of the best that you can get. Seeking advice from other parents might present options that you hadn't previously considered for your pediatric dentist.
When you begin to narrow the list down, start looking at opening times, location, parking, accessible by public transport, and if they are accepting new patients.
It is also vital that you check that the dentist will accept your insurance.
Multiple Visits
Meeting your potential pediatric dentist is essential. You will be able to see the office in person, meet the staff, and get a feel for the environment in general.
Don't expect your kid to receive complex treatment at first; instead, test the waters to check if your kid and the dentist get along nicely. Also, get a feel for the office. Are there things that help your child to keep calm and relaxed?
An Office Designed Around Children
We design our clinic entirely around children, which is one of the leading reasons we are the best pediatric dentistry in El Cajon.
Several dental practices are austere and clinical. You don't want your kid to be in a dull environment. Such a place is not the sort that inspires calmness and tranquility in kids.
Some practices have a waiting room with some plants and magazines; you get a fish tank to look at if you are lucky. In a family dentist, the office will tend to look a little more lively and may contain an area designated just for children. It may have some toys, stuffed animals, and children's books.
Now, if you go to a pediatric dental office, the waiting area is designed for children. The waiting area will look welcoming to children, so they do not get nervous, scared, or overwhelmed while they wait.
The office use fun colors, cool characters, and themes, and the equipment is special for smaller patients. If there is a television in the office, they will be playing children's television shows or movies.
For this reason, we focus heavily on adapting the environment around their needs, making sure that they have all the facilities to remain entertained and happy before, during, and after their appointment.
Some children can experience separation anxiety. Our clinic helps here too.
With a combination of expertly-trained practitioners and a welcoming environment, we hope to create a home away from home for your child, making them feel more relaxed.
Reviews
After you have asked people about their experience, it is time to look for online reviews. People don't have a reason to sing the praises of a dentist that they didn't like, or that upset their children.
There will be several testimonials on their website but look for more. Facebook, Yelp, and TrustPilot are great starting places. Online reviews can give you a feel for what you should expect from a pediatric dentist.
Get Help From The Best Pediatric Dentist in El Cajon
The key to a lifetime of excellent dental health is prevention – and that means building a lasting relationship with a pediatric dentist who has the necessary training and knowledge in the care of children.
With Dr. Surillo, not only are you forming a relationship with a pediatric dentist who can spot decay before it becomes serious, you are gaining an orthodontist who can recognize potential oral or facial development issues.
With dual training in pediatric dentistry and orthodontics, you can find the care your children need, all under one roof. To schedule an appointment with Dr. Surillo, call 619-461-6166.