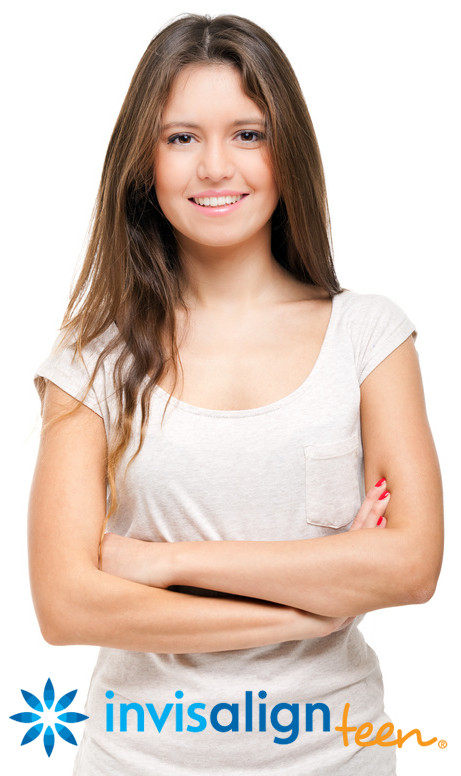 El Cajon, CA – Getting braces is almost a rite of passage in the adolescent years. While images of metal-mouthed teens used to be commonplace, that doesn't have to be the case for you. Invisalign Teen is a revolutionary, and invisible, way to straighten teeth. So is it right for you?
Invisalign Teen consists of a series of comfortable, removable, and virtually invisible plastic aligners that are custom-made just for you. Each set of aligners is calibrated for precise movement of your teeth by your El Cajon orthodontist and worn for approximately two weeks before moving to a new set.
With Invisalign, you can eat and drink what you like, brush and floss your teeth without having to maneuver around wires and brackets, and smile as big as ever because no one will notice you're in orthodontic treatment.
"Invisalign is an amazing technology," says Dr. Santiago Surillo, an El Cajon Invisalign provider. "While it may be a great option for many teens, it may not be right for every patient. During your consultation, we'll talk about Invisalign and everything it entails, as well as discuss every treatment option and the advantages and disadvantages so you and your parents can make the best choice for you."
Straighten your teeth without anyone even realizing what is happening.
For many orthodontic patients, the idea of metal brackets and wires is enough to make them want to hide out during their orthodontic treatment. The smooth plastic Invisalign aligners are made of clear plastic. Most patients report that they go through treatment without people realizing it.
The most appealing thing about Invisalign is also a disadvantage.
Patients love that Invisalign aligners are removable. There are so many advantages to this. You don't have to change your diet or your oral hygiene routine to accommodate brackets and wires. Simply pop out your aligners, and you can eat and drink whatever you want. And brushing and flossing are no different than it was before treatment.
But, because they are removable, it's easy to forget to wear them. To ensure your treatment stays on track, it is recommended that the aligners are worn for 20-22 hours each day.
"This is an important part of treatment that some people might not pay close attention to when we first talk about Invisalign treatment," says Dr. Surillo. "They hear that the aligners are removable, and think they can remove the aligner for a big dance or another occasion. I always advise against that, however, because once you make one exception to wearing them the prescribed number of hours a day, it becomes easier to make more exceptions."
And that, says Dr. Surillo, is when treatment can go off track. Invisalign can only work when it is in your mouth. To move the teeth, constant, gentle pressure has to be placed on them. If you don't have your aligners in, that pressure can't guide your teeth to their new locations. Not wearing the aligners for the prescribed number of hours a day can slow down your treatment time.
Invisalign treatment requires a high level of participation on the part of the patient. With traditional metal braces, you can be a bit more passive in your treatment. Your orthodontist places your braces, then it's up to you to ensure the brackets and wires don't get damaged, to return for follow-up appointments, and to take care of your oral hygiene.
With Invisalign, you are responsible for making sure your aligners are worn. When worn as advised, Invisalign treatment takes about the same amount of time as metal braces. But forgetting to wear the aligners can alter that course.
Treatment may require attachments.
Invisalign has come a long way and can treat many more types of malocclusions than it could when first introduced. However, for more severe cases, aligners alone may not be sufficient to move the teeth.
Attachments and rubber bands may be needed to apply additional force for more complex cases. This means that your treatment won't be as inconspicuous as it would be for a milder case that only requires the aligners.
"For some cases, I still recommend standard metal braces as the best treatment option," says Dr. Surillo. "There is a reason they have been around so long. They are effective. And today, they are sleeker than ever before. But, I always want my patients to have complete information on every treatment option available to them. If Invisalign is an option, and I think it may require the use of attachments, I will do my best to discuss that with you prior to beginning treatment so you will have a full understanding of what that will entail."
What about the cost?
Invisalign Teen costs about the same as metal braces. Dr. Surillo's office will discuss all financial obligations in detail before treatment begins, and can explain the cost of each treatment option so you and your parents have all the information you need to make the best decision about your treatment.
If you are interested in learning more about Invisalign Teen and how it may be able to help you, contact Dr. Surillo today at Children's Braces and Dentistry.