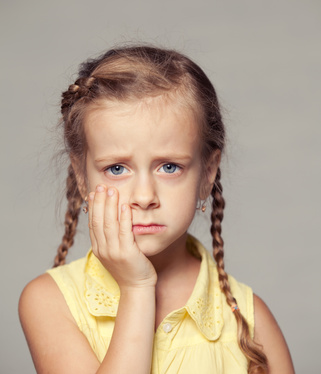 San Diego, CA – If your child complains about a toothache, do you know the best ways to help him deal with the pain until you can get in to see your dentist?
"It must be a law of parenting that if your child experiences tooth pain, it will happen in the middle of the night or on a weekend when your dentist's office is closed," says Dr. Santiago Surillo, a pediatric dentist in San Diego. "But just if you can't get in to see me right away, there are some things you can do to help your child."
First, see if you can get to the bottom of the issue. Have your child point out the tooth that hurts, then inspect if for visible cracks, breaks or to see if it is loose. If you can't see anything, it could be pain caused by a cavity or damage caused at the root.
The first thing Dr. Surillo recommends parents do is mix up a saltwater solution for the child to swish in her mouth. This can help reduce and relieve any inflammation that may be present. Simply mix a teaspoon of salt water with some warm water, then have your child swish it around in the mouth before spitting out.
To deal with pain, you can give your child an over-the-counter anti-inflammatory medication. A liquid version is best when your child has tooth pain because chewing a tablet may cause additional discomfort.
Essential oils are all the rage now, with many promising cures for a host of ailments. Clove oil is actually an excellent resource for parents to keep on hand. The oil works as both an analgesic to help lessen pain and has antibacterial properties. Use a cotton swab to dab a small amount of oil on the affected area.
"Schedule a dental appointment for as soon as you can," says Dr. Surillo. "While your child may feel better quickly, the tooth pain could be caused by an underlying issue that might continue to cause pain if not corrected."
The most common causes of tooth pain in children can be from loose teeth and cavities.
Children typically begin to lose their baby teeth around the age of six. While they are loose, it can be hard for your child to eat and there may be pain and some bleeding with a lost tooth. Allow your child to gently wiggle the tooth until it is ready to come out on its own. Forcing a tooth out before it is ready can lead to some pain and extra bleeding that could otherwise be avoided. Have your child eat soft foods until the tooth had come out.
Cavities are caused when the bacteria that live in our mouths come into contact with the sugars left behind by the food we eat. This creates acid that attacks the enamel of our teeth. Over time, these acid attacks can lead to cavities, which can be painful for children. To avoid cavities, be sure your child brushes and flosses regularly, avoid sugary foods and beverages, and don't let your child snack throughout the day. The more often food comes into contact with our mouth, the more acid attacks that can cause decay can occur.
If your child experiences frequent tooth pain, be sure to schedule an appointment with a pediatric dentist who can help your child find relief.