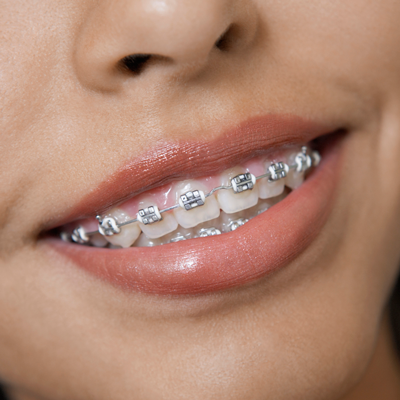 Are you and your child considering straightening their teeth? There are different teeth straightening routes that we can take to help your child get their ideal smile. Whether it is for cosmetic reasons or functional reasons, many people look to get traditional braces in El Cajon.
It is common for children and teens to get traditional braces, which is why these are the ones you often see. Traditional braces in El Cajon are more of an ideal choice for children and teens for a few reasons. Firstly, metal braces are the toughest, so they are ideal for those who have a hard time remembering not to eat hard, chewy, and sticky foods. These braces are also able to face more pressure than other teeth-straightening methods. Another great reason why they are ideal is that they cannot get lost. Children and even teens misplace things, and they can get lost or broken. Traditional braces in El Cajon are cemented to the tooth so that they stay in place during the entire process. Wires and brackets can break, but they are easy fixes, and you would just come into the office.
The average time frame for traditional braces is around two years. However, your process could either be shorter or longer, depending on your orthodontic needs. Everyone's journey is different, so we do not recommend comparing your process to another person's. The final results will all be the same!
Traditional braces are also one of the cheaper forms of braces. If you are looking to get traditional braces in El Cajon for your child and are looking for an affordable option, metal braces are perfect! If your child is worried about getting braces because of how they look, they should not have any fear or worry. As we mentioned, metal braces are the most common, which means if your child needs braces, there is a high possibility that there are people are their school that already have braces! They should not feel like an outcast. Instead, braces are more of a way of life around a certain age.
If you have any detailed questions that you still may have about traditional braces, please reach out to our pediatric dentist in El Cajon! We want to make sure that you have the right information for you are your child. At Children's Braces and Dentistry, it is our mission to provide not only the top care but also a beautiful smile for your child.
FAQ
Traditional braces in El Cajon are metal orthodontic appliances used to straighten teeth and reposition jaws. They are the most common, accessible, and durable of orthodontic appliances. If you require orthodontic treatment, you were likely recommended to use metal braces.

Patients wear traditional braces in El Cajon for about 2 years. Every case is different, and if you received early orthodontic care you may not need to use braces for too long. You may have to wear your braces longer if your dental conditions are too severe.

It can be harder to spot the need for children's braces in El Cajon. At a young age, primary teeth may not be as malaligned as other permanent teeth, but through additional inspections of your kid's dental structures, we may discover indications that their proper development could be at risk and in need of corrective treatment like braces.

Your kid will need braces for children in El Cajon if they suffer from crowding. Other symptoms are also indicative of structural problems such as an overbite or underbite, and speech development issues can also be caused by malalignment in teeth.

Your orthodontist may recommend braces for kids in El Cajon after they have lost most of their primary teeth and when most of the permanent teeth have already grown. Usually, patients between the ages of 8 and 14 are prime candidates for the use of braces.