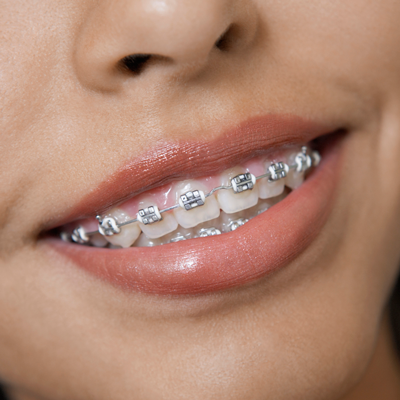 Traditional Braces
Orthodontics does much more than simply enhance one's appearance. Straight teeth are much easier to clean, reducing the risk of dental decay and gum disease. Having a balanced bite can also prevent health problems later down the line, such as temporomandibular joint disorder, teeth grinding, and sleep obstruction. Getting braces early on can also be more effective because the jaws and teeth are easier to move when they're still growing.
Traditional metal braces are a type of orthodontic appliance made of high-grade stainless steel. They align the teeth using metal brackets and archwires that place pressure on the teeth until they move to their designated position in the mouth. Appointments are needed to tighten the braces every 4 – 6 weeks. Children have the option to choose colored elastics for a unique and creative smile.
How Long Do Traditional Braces Take?
Most patients wear their braces for 18 – 24 months with traditional braces because the braces must be manually adjusted every few months. However, each situation depends on multiple factors. Severe and complex dental conditions, like malocclusions, gaps, and overlapping teeth, can contribute to an extended treatment time. Patients have different growth patterns and will respond uniquely to orthodontic appliances, so the braces period may deviate from the initial estimates. Treatment duration also depends on how well patients comply with instructions.
Do Traditional Braces Hurt?
Like all orthodontic appliances, traditional braces place a lot of pressure on the teeth and gums, so it's normal to feel sore at first. It can also take a few weeks to get used to the feeling of braces and wires against the inside of the mouth. If there are any wires or sharp parts poking your child's mouth, the orthodontist can adjust the braces to make them more comfortable. Kids can also use dental wax to make the experience more pleasant.
When Should My Child Get Braces?
At Children's Braces and Dentistry, most of our patients fall between the ages of 12 – 18, but everyone develops at a different rate. Children can get braces once their adult teeth are fully developed. The American Association of Orthodontists recommends getting an orthodontic screening at the age of 7 so that any structural problems can be corrected early on as the mouth is still growing. Children can also get orthodontic treatment earlier with the referral of a pediatric dentist. If there are no skeletal or jaw problems that need to be addressed, however, kids can wait until adolescence to straighten their teeth.
FAQ
There not a correct or proper age for braces. Braces for children in La Mesa can be put on as early as six years old. Our orthodontist lets our patients know when a good time braces for them is. Each patient is different and may require braces at a different time.

As a parent, you may start to realize that your child's teeth are either crowded, gapped, or have a misaligned bite. If you notice any of these, you should make your child an appointment to see an orthodontist. The orthodontist will let you know if braces for children in La Mesa are right for your child.

There are many reasons why people need to get braces. Overcrowding is a big issue and can lead to cavities because teeth are so close together; it makes it hard to floss. Braces for Children in La Mesa can help solve this problem!

Braces for children in El Cajon do move teeth over time. However, teeth are not moved every day entirely. Little by little, teeth are shifting their position over time to reach their permanent end goal. If teeth are moved too quickly, there is a chance they may fall out.

Braces for children in El Cajon close tooth gaps little by little. It can take some time before a gap-toothed smile can close up. The length of time depends on the size of the gap. Some gap smiles are smaller than others. Some are large, which requires more time to close.

There are pros and cons to braces for children in El Cajon. The pros are that your child eventually has a healthy smile. The cons can be the cost; braces can be pretty pricey if you do not have dental insurance or assistance. Check to see if your orthodontist has payment plans if you are worried about cost.