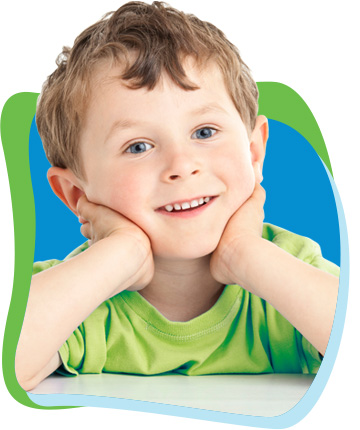 Dento-Facial Growth & Development
The American Association of Orthodontists: O
rthodontic Treatment San Diego
By the time children reach the age of 7 an orthodontist evaluation is key for any early discovery of possible dental problems. The sooner you rule out any issues, the better chance your kid has for normal dental growth. Dr. Surillo, our best children orthodontist for La Mesa, El Cajon, and San Diego, is an Orthodontist and a Pediatric Dentist. And he will be able to detect and treat any dentofacial age-related issues. It is recommended to bring you, kids, since they are babies to monitor their dentition development as well as their jaws, face, and supporting structures' growth.
Our patients are monitored diagnosed and evaluated for future correction, and as they grow the orthodontist will guide you for the treatments appropriate for your child's age and development.
Remember that our Orthodontist and Pediatric specialties guarantee your child's best chances of development with proper diagnosis, guidance, and treatments that will guarantee the best results.
Early treatment should be initiated for:
 Space maintenance when there is the need to keep the child's arch length and spacing during teeth's transitions.
Facial/Jaws asymmetries such as the ones caused by TMJ and others.
Narrow or underdeveloped jaws conditions as crossbites.
Teeth protrusion from severe to mild such as overbite/overjet or underbites.
A common condition such as a constricted palate and airway due to swollen tonsil/adenoids (Always in collaboration with an Ear/Nose/Throat Specialist)
Various persistent habits such as thumb sucking, or tongue thrusting can also develop certain oral conditions.
Facts: Early Treatment is important to consider when these problems exist.  Dr. Surillo is well known for being conservative in his recommendations and only encourages early treatment when it is very necessary, as a result of his training and experience.
Facial Development
Majority of 12-year-olds require orthodontic treatment for a wide range of complications. But in most of the cases (90%), the patients are brought up when their faces have already developed. For this reason, it is crucial to guide -since early stages- your child's facial development. With this approach, almost 80% of cases can be corrected before the adult's teeth start to appear.
Cooperation
Adolescence is an overly sensitive time for all, and if we have added unresolved dentofacial developmental problems to the equation it is even harder for anyone to deal with them. This is why it is easier to prevent, treat, and correct a child's dento-facial problems that an adolescent; and not only from the psychological aspect that it involves self-acceptance, but also from the physical fact that it is much better to treat any and correct the problems from a younger child that it is still developing than from a young adolescent that might physically already reached adulthood.
Dento-Facial Orthopedics
Almost 55% of children who need orthodontic treatment due to a bad bite have underdeveloped or overdeveloped upper or lower jaws. Early orthodontic treatment can reposition the jaws, improving the child's profile and correcting the bite problem. Early normalization of dento-facial problems is one the components in the development of a child's self-esteem, and early orthodontic intervention may ensure the best possible results.
Before

After

Before

After

Before

After
In the first phase, the doctor is interested in the position, size, and symmetry of the jaws as well as the developing alignment of the teeth, future growth potential, spacing of the teeth, breathing and other oral habits which may, over time, result in abnormal dentofacial development. Treatment initiated in this phase of development is often very successful and some times, though not always, can eliminate the need for future orthodontic and/or surgical treatment.
Before

After

Before

After

Before

After
Phase Two Orthodontic Treatment (Ages 12 and beyond)
In the second phase, the doctor will be looking at how your child's teeth and jaws fit and work together. Your child's teeth will be straightened and their occlusion (bite) is properly aligned. Attention will be given to the jaw joint (TMJ), the maturation of the face and facial profile, periodontal (gum) tissues, and the stability of the final results. By undergoing the first phase, we can usually reduce the amount of time needed for braces on the permanent teeth.
Before

After

Before

After

Before

After
Orthodontic Treatment for Adolescents and Beyond
Retainer Guide
After the orthodontic treatment is over, patients still need to wear retainers 24/7 (except when eating or performing dental care) to maintain the alignment of their teeth and jaws. After a period of time, the retainers will only need to be worn during the night.
Retainers San Diego

Tips:
Always put the retainer back in the case during meals because they can easily get lost or thrown away in napkins

Brush retainers after use to remove a buildup of bacteria and debris

Soak retainers in vinegar to keep them clean  

Keep retainers in a safe area, so they are not damaged

Bring retainers to appointments in case they need professional cleaning or adjustment

Remove retainers when swimming or playing extreme contact sports

Keep retainers in a moderate temperature
Types of Retainers
There are three types of retainers. The orthodontist can help your child choose the perfect one to suit their preferences and lifestyle:
Clear retainers: This type of retainer is removable and custom-made to fit your teeth. They are similar to Invisalign because they are clear trays that don't show when they're worn. However, clear retainers cannot be adjusted, so if your teeth move, the retainers must be replaced.
Hawley-type retainers: These classic retainers are made of a thin metal wire attached to plastic that is molded to the shape of the mouth. They can be adjusted over time.
Fixed retainers: Also known as permanent retainers, fixed retainers are metal wires bonded to the back of the teeth to keep them straight. This type of retainer is often recommended for younger patients who may forget to use their retainers, but it can also be difficult to clean. They are usually removed after a period of time and replaced with a clear or Hawley type retainer.
FAQ
A children's orthodontist in La Mesa has a very important job! It is their job to help children's permanent teeth straighten over time. By doing so, it can prevent misaligned bites, speech issues, sleep trouble, teeth grinding, and cavities! If you would like more information, please give us a call!

A dentist takes care of the overall health of the teeth, gums, nerves, and the jaw. A children's orthodontist in La Mesa is a specialty within dentistry. An orthodontist's focus is straightening teeth to improve the positioning of teeth. Both professions are essential, and we recommend that your child be seen by both regularly to ensure a straight and healthy smile.

An orthodontist is a specialized part of dentistry. Their focus is on straightening teeth to improve not only the aesthetics of a smile but also the functionality of one. Your kid's orthodontist in La Mesa is here to help your child get the smile of their dreams and get a functioning smile that does not delay speech hinder chewing, and decrease the chances of getting cavities.

When you come to see our kid's orthodontist in La Mesa, you will want to know what treatment you are going to receive. What you receive treatment wise depends on your orthodontic needs. Once we perform x-rays and an examination, we will go over which method of braces we feel will benefit most. From there, a specialized treatment will be planned just for your teeth straightening process.

Orthodontic treatment works differently for everyone. Your kid's orthodontist in La Mesa will determine which form of teeth straightening will benefit your child, and from there, you will get a better understanding of how the treatment process will work. Traditional metal braces have a different process than Invisalign.