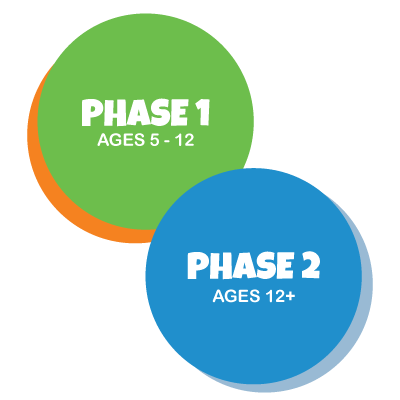 Two-Phase Treatment
The American Association of Orthodontists recommends children receive their first orthodontic screening around the age of 7, so they can receive early orthodontic treatment if necessary. Early orthodontic treatment is also known as phase 1 of two-phase treatment. This comprehensive approach to orthodontics is focused on creating the ideal facial and skeletal structure for a balanced bite and straight teeth.
At Children's Braces and Dentistry, Dr. Surillo is both an orthodontist and pediatric dentist, so he has an extensive understanding of children's dentofacial development and how orthodontics can help. When our patients begin their dental exams between the ages of 1-2, we are evaluating their dentition and oral health as well as the growth and development of their jaws, face, and supporting structures. Our dentists will monitor and diagnose whether there is any significant variation from normal development, so we can correct any issues early on. Our dual specialties can provide your child with an accurate diagnosis, tooth guidance, and appropriate orthodontic intervention for a beautiful, functional smile.
Phase I (Ages 5 – 12)
Your child may be a candidate for early orthodontics if they are at risk of abnormal jaw growth, crowding, or a misshapen palate. These issues can cause serious issues later on that are costly, difficult, and even painful to correct.  If they are detected early on, however, phase I treatment can help the jaw develop in ways that accommodate all the permanent teeth and improve how the jaws fit together.
The orthodontist will perform a visual examination and take x-rays or photos of the teeth to determine what type of orthodontic treatment is necessary. In this stage, the position, size, and symmetry of the jaws are assessed along with future growth potential, spacing of the teeth, breathing, and other oral habits that could lead to abnormal dento-facial development. Orthodontic appliances used in phase 1 will correct the patient's bite and guide the growth of their jaws and teeth. This usually takes about 6 – 12 months.
Resting Period
After the first phase, the orthodontist will give your child a resting period for permanent teeth to grow in. It's important to avoid interference with the permanent teeth, so they can develop naturally. The jaws and gums should be prepared for the adult teeth to grow in from the first phase of orthodontic treatment.
This period takes approximately 6 months, but it varies with each child. The orthodontist will still need to monitor the movement of teeth to determine the next steps for the patient throughout this time.
Phase II (Ages 12+)
Patients are usually more familiar with phase II of treatment. This is the second round of orthodontics that focuses on correcting the permanent teeth for a straighter smile. In this phase, orthodontic appliances are used to ensure each tooth fits well in the mouth functionally and aesthetically. The focus is on the jaw joint, the maturation of the facial profile, periodontal tissues, and long-term stability. Phase II is usually less intensive when it is coupled with phase I because the structure of the mouth is already ideal from the first round of treatment. Without phase I, this process could take 2 years or longer and require the extraction of adult teeth or surgery.
After this phase, the orthodontist will make custom retainers to keep the teeth in their position. Orthodontists recommend two-phase treatment because it maximizes the opportunity to achieve a healthy, aesthetic, and functional result for years to come.
FAQ
When we talk about two-phase treatment in El Cajon we refer to a comprehensive approach that starts with a patient at a young age to help correctly develop long-term stability of dental structures, and that minimizes the need for very long and painful corrective procedures that are more common in Teens.

We recommend two-phase treatment in El Cajon because we can help your kids from a young age to properly develop and prevent abnormal jaw growth or other serious malalignment issues. If we start treatment at a young age we can have much shorter interventions when your child is older and save on time, money, and painful procedures.

Two-phase treatment in El Cajon is in line with the recommendation from the American Association of Orthodontists to provide children with their first orthodontic screening around the age of 7. By engaging early in orthodontic treatment you ensure that we can monitor their growth appropriately, correct any issues, and prepare their mouths for proper development when adult teeth grow.

You don't have to wait for an emergency for your child to benefit from two-phase treatment in La Mesa. Because this is more about developing a strategy for the long-term healthy development of your child we invite you to make an appointment and consult with us about what treatments your child requires.

We recommend children begin their two-phase orthodontic treatment in La Mesa around the age of 7, that way we can monitor their jaw development and verify if any retainers are necessary to ensure that adult teeth grow in the proper place. This will also help reduce the time used for braces if they ever need them as teens. The first phase of this treatment usually starts between the ages of 5-12