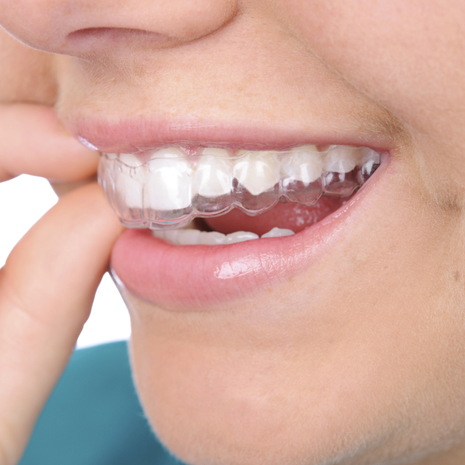 Invisalign
Invisalign isn't just for adults anymore! The orthodontic appliance has soared in popularity with teens in recent years. With Teen Invisalign, kids are no longer limited to only having metal braces. They can straighten their teeth just as effectively with the incredible technology of clear aligners, too just like dental crowns.
At Children's Braces and Dentistry, we provide Invisalign to teens who prefer a more discreet, flexible orthodontic treatment. It is a comfortable, convenient way to realign teeth while maintaining the appearance of a braceless smile. Many patients prefer Invisalign because it is virtually undetectable, yet it is just as effective at realigning teeth.
What is Invisalign?
There are many clear aligner systems available, but Invisalign is the best known. Invisalign is a brand of clear aligner technology that can straighten teeth without the use of any metal wires or brackets, appliances normally associated with traditional braces. Instead, the Invisalign process utilizes removable trays made of a thermoplastic material that gently guides the teeth into alignment. Because there are no wires or brackets involved, patients often find Invisalign is more comfortable and convenient than other orthodontic appliances. The clear aligners are also custom made to fit perfectly against the patient's teeth, making the aligners nearly invisible.
How does Invisalign work?
Like most orthodontic treatments, Invisalign works by exerting slowly exerting pressure on teeth to move them into the right position. Unlike most orthodontic treatments, the appliance that performs this purpose requires no brackets, metal wires, or rubber bands. Instead, the orthodontist will create a virtual 3D model of the patient's mouth and create a plan to slowly align the teeth and bones. Based on this model, the doctor will develop a series of custom-fit, computer-generated aligners.  This series of clear removable trays will push the teeth into alignment. 
To ensure each Invisalign tray fits properly, the orthodontist will have the patient try on each new pair of aligners. Then, the orthodontist will modify the aligners as needed. The patient will switch out the clear aligners every two weeks and with each pair of aligners, the teeth will get closer and closer to their ideal alignment.
Invisalign needs to be worn 22 – 23 hours a day to be effective. Since the trays are removable, however, it can be easy for patients to forget to put them back in after taking them out to eat or brush. Failure to wear Invisalign for the recommended amount of time every day can delay treatment and affect results. When the aligners are not in the mouth, the teeth will return to their original positions. No matter how great an orthodontist is, there is no way Invisalign can work if it is not being applied correctly!
How long does Invisalign take?
For most cases, Invisalign takes about 12 – 18 months, but every patient is different. Treatment time depends on the severity and complexity of the orthodontic issue at hand, so only a consultation with an orthodontist can provide an accurate estimate.
How much does Invisalign cost?
Like treatment time, the cost of any orthodontic treatment depends on the patient. Everyone has unique needs and preferences that must be addressed as such. Furthermore, every orthodontist prices its services differently. There are many factors that contribute to the price of Invisalign, such as location, service, expertise, and more. Some insurance companies also provide coverage for Invisalign, which can greatly affect a patient's cost out of pocket.  
Why choose Invisalign for kids?
There are many benefits to choosing Invisalign for your child. Not only is it an effective way to correct their smile, but the clear aligners are also invisible. For adolescents who are going through a sensitive time emotionally, their appearance with Invisalign can be a major self-esteem booster. Of course, aesthetics aren't the only reason to choose Invisalign. Here are the three major reasons we recommend Invisalign for our teen patients:
Comfort: Since clear aligners do not use any sharp metals, parents don't have to worry about their kids suffering from cuts, sores, or abrasions. Patients can also simply take off their trays if they notice something is wrong and have them adjusted by their orthodontist. More importantly, teens who are involved in contact sports can use mouthguards over their Invisalign during practice and games. With metal braces, mouthguards need to be customized, which can be expensive and bulky. Even then, the metal parts of the braces can still snag against the skin in the event of a collision.
Convenience: Patients with metal braces must restrict their diet and refrain from certain behaviors because there are foods and activities that could damage their braces. For example, there is no gum chewing or popcorn eating for braces users. Invisalign patients, on the other hand, have the freedom to eat as they normally would. The trays can be removed for meals, special events (like presentations of interviews), dental hygiene, etc.
Cleanliness: It's also much easier to brush and floss teeth with Invisalign because there are no brackets or wires obstructing the way. Food and sugar particles are less likely to get caught in the thermoplastic trays, reducing the risk of cavities and gum disease. Teeth can easily get stained with metal braces because patients are unable to reach and clean certain areas of their mouth with so much metal in the way
Should my child get Invisalign?
At Children's Braces and Dentistry, we do not offer Invisalign to patients who have yet to reach adolescence. We believe it's important to wait until our patients' teeth and bones have reached a certain level of maturity before we offer Invisalign. If you are interested in early orthodontics, check out our what braces for kids we offer.
Like all orthodontic patients, a good candidate needs to have strong teeth, bones, and gums to withstand the pressure of the appliance moving teeth. Invisalign is also a major responsibility – the clear aligners must be cared for properly and worn for at least 20 hours a day. Otherwise, the treatment may not be effective and the results could be delayed. If your child is ready for this responsibility, Invisalign may be the right choice for them! Otherwise, nonremovable orthodontic options like traditional braces and Damn braces work just as well and require less diligence.
If you have more questions about Invisalign, give us a call at Children's Braces and Dentistry in El Cajon! We are happy to help.
FAQ
Invisalign is a form of braces that uses a series of clear aligners to straighten teeth over time. Invisalign in La Mesa uses these aligners to give a discrete look. Most people will not be able to see the aligners unless they look incredibly close.

Invisalign in La Mesa is used for teeth straightening and creating your ideal smile. A model is taken of your teeth, and a series of unique aligners are designed to move your teeth little by little over time. You must change out your aligners every few weeks, as advised by our orthodontist.

If you are looking to get Invisalign for teens in Las Mesa, then look no further. Patients as early as six years old can get Invisalign, which means your teen is a great age for this form of braces. Invisalign is more ideal for teens and adults because they tend to be more responsible about the aligners.

A fifteen-year-old can get Invisalign for teens in La Mesa. As we previously stated, the earliest is childhood. Teens are more ideal candidates because they are less likely than children not to lose, break, or consistently need aligners replaced.

Ultimately, our orthodontist will inform each patient is they are eligible for Invisalign for teens in El Cajon. If teeth need minimal work, then Invisalign can be ideal. If teeth need severe work, traditional metal braces may be a better option.

Invisalign for teens in El Cajon is a great way to get a beautiful smile discretely! More and more people are choosing Invisalign over traditional metal braces, and they love the process. Please make an appointment for a consultation with us today!