Pediatric Dentist La Mesa
We are proud to be the best pediatric dentistry and orthodontics in La Mesa for children, adolescents, and adults. Children's Braces and Dentistry (CBD) has been servicing this wonderful city for generations, with a great team of experts. Our own Dr. Surillo, a second-generation dentist with over 20 years of experience, is a dual-trained and certified specialist in Pediatric Dentistry and Orthodontics for children, teenagers, and adults. His unique expertise and knowledge make him the best dentist in the community, and this is why many Pediatricians, General Dentists, and other specialists in the area gladly refer patients to our office.
Pediatric and Orthodontic Services
Our goal as the best pediatric dentistry and orthodontics in La Mesa is that every child feels comfortable and safe during appointments and that they receive the best care and treatment offered.
We offer a wide variety of Pediatric and Orthodontic treatments that will make your kids, teens, and parents love our office and look forward to their return.
For babies, we offer guidance on their first dental appointment and will make their first experience a minimally invasive, safe, and comfortable procedure. For toddlers between 2-3 years of age, we have teeth cleaning, fluoride treatments and x-rays are not typically necessary at this first appointment. For children we also have tooth extractions, pulpectomies, dental crowns and other treatments. Our Orthodontic treatments include, traditional Braces, Damon Braces, Invisalign and more.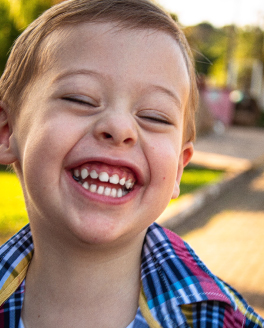 Payments
We have the best financing patient advocates for kids Dentists in La Mesa that will help you find the best financial arrangement for your child's treatment. As we value your loyalty, we provide special family discounts and our on-site insurance specialists are constantly available to answer your benefits questions as well as filing your claims.
CBD offers flexible payment options such as low-down-payment and no interest in-office financing. We also offer all-inclusive orthodontic treatments, including the first set of retainers, along with lifetime retention checks and adjustments at no cost.
Finally, we provide a great variety of patient referral rewards, oral hygiene rewards, monthly Facebook exclusive contests, and grand prize referral drawings.
Location and Business Hours
HOURS:
We work 8AM to 5PM from Monday through Thursday and Fridays 8AM to 22PM
LOCATION:
Our office is conveniently located at 4700 Spring St #104, La Mesa, CA 91942
Head northeast on University Ave toward La Mesa Blvd, turn right onto Allison Ave, turn right into La Mesa Village Plaza, and take the first left. Our offices will be on your right.
We are proud and glad to be everyone's best option for Kids Dentist in La Mesa, we are here for you with a great convenient location and hours, a wide variety of dental benefits and network. We count with state-of-the-art equipment, with the latest technology. And experienced and expert doctors and staff with amazing communication skills that will care for you, your children, and the community. For further information contact us here.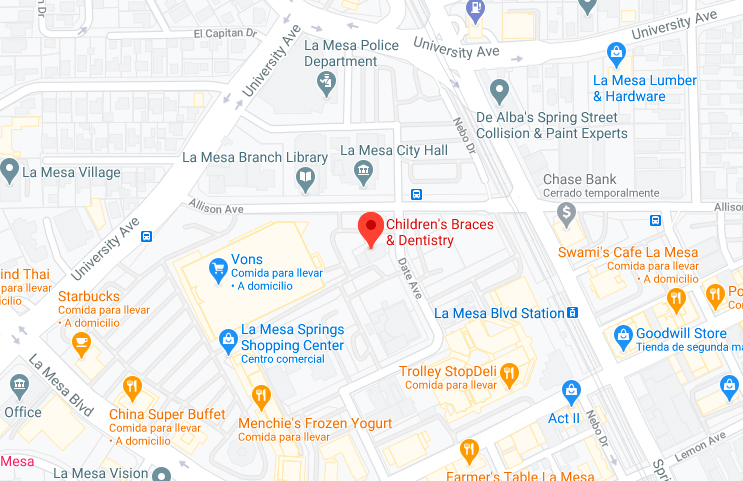 This will highly depend on their age. At first, you'll do good by using just a wet cloth and wiping away any food solids or remains from your baby's bottle. Then, as more and more teeth begin to erupt, you can switch to a soft-bristled toothbrush and some non-fluoride toothpaste. Once your kid learns how to spit, you can switch to fluoride toothpaste and strengthen their teeth.

Children can brush their teeth on their own at any point, but we highly recommend you help your child brush their own teeth while they haven't yet developed the reflex to spit. Teaching them a strong foundation on how to brush their teeth and making sure they don't swallow any toothpaste is essential. Even then, you should still join your child in brushing their teeth right up until their teenage years.

The best way to avoid cavities is to have a strong oral hygiene routine. Keeping your teeth clean helps remove any food debris or other things that could help feed harmful bacteria in your baby's mouth and erode their teeth' enamel. Additionally, you could ask your kids' dentist about any additional dental treatments that can help avoid the onset of tooth decay. Dental sealants are a good way to help strengthen your kids' teeth defenses.

Dental emergencies are usually marked by excessive bleeding and swelling. If you see your child has any of those signs or says they are in a lot of pain in their jaw area, please contact their dentist and seek immediate help. You can also find an emergency dentist or take your kid to the ER for appropriate care.

Unlike other dental health care specialists, pediatric dentists undergo training to help them better understand children and how to make them feel comfortable in an otherwise potentially threatening environment. Pediatrics teaches dentists how to help younger patients enjoy their treatment and develop a relationship built upon trust.

Your kid will need to undergo an initial examination where their dentist gets a closer look at what they require from dental care. They might get some x-rays and an overview of what their treatment will look like. Also, they'll get acquainted with our equipment and get a feel of the office setting.

The best thing you can do is talk to your child about what happens at a pediatric dentist's office. Honesty goes a really long way to show your child there's nothing to fear when they come to our office. Also, you should get them acquainted with their oral health routine so it's much easier to accept their dentist's recommendations.