We love providing orthodontics & dentistry for children!
We look forward to you meeting our exceptional, friendly, and caring staff. They are excited about what they are doing, have high standards of quality and integrity, and are motivated to achieve the best results for our family of patients.
At Children's Braces and Dentistry, we love what we do and it shows on our faces – it seems we're always smiling around here. You'll find our staff is friendly and upbeat. We'll do our best to make your visit comfortable, caring, and even fun! And all the while we'll be providing you with the highest quality dentistry for children. Don't be surprised if it's the best time you've had in a dental office.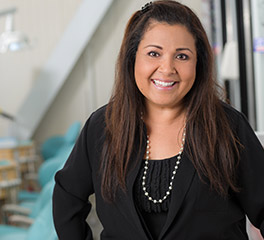 Nancy
Office Manager and RDA (Registered Dental Assistant)
Nancy, a San Diego native, is our Office Manager and a Registered Dental Assistant who has worked with Dr. Surillo since 2006.  She started her dental career in 1987 with Dr. Whitcomb at his satellite office in Hillcrest, when she was just barely out of high school.  She enjoys bringing smiles to people's faces and believes that every child deserves to have a chance for great self-esteem.  Nancy is not only very knowledgeable, but also very patient and friendly to our little patients and their parents.   Nothing brings her more joy than to watchour patients' smiles develop into the great Surillo Smiles, and witness their growth from infancy to young adults.  As our office manager, she is superb at directing the ebbs and flows of our patient days mostly as a result of her willingness to listen and her friendly disposition to lend a helping hand when needed.  Nancy has two young adult children (who proudly show their Surillo Smile) and she enjoys spending time with her family, cooking, reading and the outdoors.  She is also an avid fan of the San Diego Padres and Charges.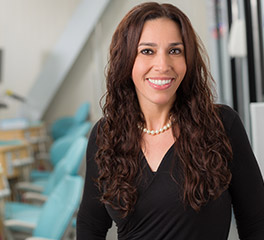 Cindy
Orthodontic Treatment Coordinator, Financial Advocate and RDA (Registered Dental Assistant)
Cindy is our very special Orthodontic Treatment Coordinator who has worked in the dental field since the very young age of 15. She is a very caring, talented and valued member of our team who has worked as a treatment coordinator for most of her life. She joined our staff in 2014 and immediately was well liked by our Team and our community of patient's families. Not only does she bring extensive knowledge of orthodontic and financial considerations to the office but also an incredible zest for life. She has a great laugh along with a most positive attitude which makes our young patients and their parents feel comfortable and at home. Cindy was born and raised in San Diego and has an extended family here, which she enjoys spending time with. She also enjoys rooting for our home teams and is the proud mom of her teenage son, Nate. Cindy's joyful, infectious laugh can many times be heard throughout the office.
Rosa
Treatment Coodinator and DA (Dental Assistant)
Rosa is our Treatment Coordinator and front office patient advocate. She was born and raised in San Diego and is married to her great husband, Raul. Together they have two wonderful sons.  Rosa has experience working front office for 20 years, however, her love for dentistry started soon after her children's treatment with Dr. Surillo.  Rosa has been coming to Dr. Surillo's dental office since 1991 with her first son as a toddler, and continuing with her 2nd son, both of whom had orthodontic treatment as well.  Once her children were done with their orthodontic treatments, Rosa was impressed with Dr. Surillo's excellent and beautiful results that she too decided to have braces with us.  The caring, amazing and professional work she and her children received here, led her to seek a career in dentistry for children.  In 2012, Rosa graduated from Kaplan University with a degree as a Dental Assistant.  Soon after, she had the honor to start working with Dr. Surillo as a Treatment Coordinator with the most amazing group of people.  Helping patients, parents and families feel welcomed, comfortable and cared for, is her utmost priority.  She truly enjoys caring and offering the same quality of service she and her children have received with Dr. Surillo and his team.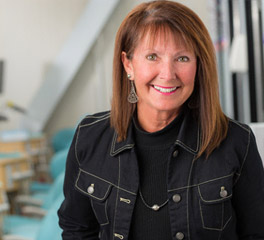 Valerie
Treatment and Scheduling Coordinator and DA (Dental Assistant)
Valerie, our Treatment and Scheduling Coordinator and Patient Advocate is also one of our old-timers (don't worry, she's proud of that!), who started with us in the year 2000.  She grew up in El Cajon and started her career in dentistry for children in 1972, when she was just a junior in high school. 
She loves working in the field of Pediatric Dentistry and Orthodontics, and truly enjoys seeing and helping our patients and their families leave our office with a smile on their faces.  She loves their smiles and always has one herself.  Valerie has a kind heart and an incredible helping disposition, which truly makes our reception room one where our families feel at home.  She is an incredible asset to our practice with 16 years of dedicated service to us and is the first and last motherly smile our patients get to see when they visit us.
Valerie has lived most of her life in Ramona and is probably the most recognized person there.  She enjoys spending time with her husband of 40 years, Tom, her family and friends.  Her favorite past-times are her grandchildren, outdoors, bike-riding, going to the gym, running, and gardening.  Her biggest hobbies are her tearoom and their frequent trips to their house in Mexico, a very special place whom she feels a very special connection to.  Summer time is her favorite time of the year, but you can always find a warm smile on Valerie all year round.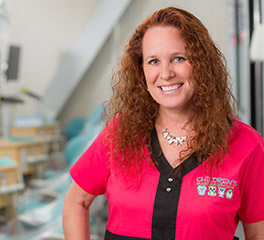 Brenda
Orthodontic and Pediatric Dental Assistant / RDA (Registered Dental Assistant)
Brenda is also one of our old-time favorite orthodontic and pediatric dental assistants and she is very proud of that.  She started with us in 2006.  She was born and raised in San Diego, graduating from Helix High School in 1984.  Right after high school, she started her family and started working during the time her kids were in school.  She worked various jobs around the county including auto body, auto mechanic (yes, she can drop a tranny!!!) and professional painter.  As a skilled dental assistant, she finds equal joy in orthodontics and dentistry for children. She found her true passion and love in the field of orthodontics in 2000 and worked for six years with a well-known orthodontist in San Diego.  She learned everything she could there and challenged herself to be one of the best orthodontic technical assistants we know.  She became an RDA in 2006 right around the time she joined our practice.  For Brenda, there is no better reward than to see someone's smile after their braces come off.  She is a true master of her craft, but more importantly, she has the kindest heart and a gigantic empathy for our little and not so little patients.
Brenda comes from a kind-hearted tight nit family and many friends, with whom she loves to spend as much free time as she can, and especially her husband and four children.  She has a strong passion for Harleys and fast cars, loves hiking, working out at the gym, and watching movies at home.  In fact, she is a movie buff and you can often hear her quote different movie lines around the office!  She loves to sing, and is quite good at it, but not too many people get the opportunity to hear her sing, as she is extremely shy about it.  She also loves to cook, especially for big groups of people, but can't stand to clean the kitchen afterwards.  Look for Brenda in the office, you can't miss her, she is the fiery (but shy) redhead that never stops moving!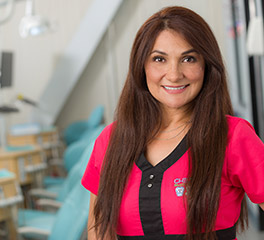 Frances
Orthodontic and Pediatric Dental Assistant / RDA (Registered Dental Assistant)
Frances is another of our long-time pediatric and orthodontic assistants who first started with Dr. Whitcomb in 1995.  She left for a few years to work with another well-known pediatric dentist, but returned home with Drs. Surillo & Whitcomb in 2002.  She is one of our greatest assets.  She is a genuine, hardworking, kind-hearted, and funny person (did we say funny?).  Her Surillo smile can be seen from anywhere and she loves to make our patients laugh.  She has a way of connecting with every patient she works with, and has a story to tell them that makes them feel entertained while on the dental chair.  Frances is exceptional with our younger patients as well as with our special needs patients.  Her sweetness, simplicity and contagious uplifting mood make our office staff and our patients feel like they can overcome any challenge our daily lives are presented with.
Frances lives by her ideals that the simple things in life can make us happy.  Her biggest one is watching her three children play sports and mature into young adults.  This gives her the biggest happiness.  She has a love for baseball as well and is a super-fan of the Padres.  Going to spring training is one of her favorite get-aways.
Besides her three children, Frances has two dogs named Gibby and Domino.  She enjoys cuddling with them on her couch along with a good cup of coffee.  We are so very fortunate to have Frances in our office for all these years and we hope that you get to know her and her stories in the near future.  It will put a smile on your face as well as hers.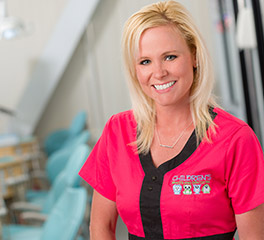 Jessica
Orthodontic and Pediatric Dental Assistant / RDA (Registered Dental Assistant)
Jessica, a San Diego native, is also a long-time Orthodontic and Pediatric Dental Assistant that has been with us for many years (although she looks like she is straight out of high school!).  She has always had a passion for working with children and adolescents ever since she was a young girl.  Before entering the dental field in 1999, she attended college where she studied Child Development. 
Jessica has enjoyed being a part of our close-knit team since she first started with us in 2001. She describes the best part of her days as when she is "having the greatest conversations with our patients, since you never know what they are going to say or what they come up with."  She also feels privileged to be able to work with young patients and be a witness to their growing up.
Her biggest gift to our office is not only her amazing technical skills but also most importantly, her immense heart and caring demeanor to our young patients.  She truly cares about making them feel comfortable and being able to help them overcome their fears.  Being the mother of three wonderful children and coming from a family who raised her with such kindness, spills over to our office and her caring touch.  We are so fortunate to have had Jessi (as we know her) with us for so many years.
When not at our office, Jessica loves cruising the back roads with her husband in her restored classic British convertible, especially on the back roads of our local mountains.  On many weekends, you may also see her cruising or strolling around Coronado, one of her favorite spots in San Diego.  She also loves going to country music concerts and loves to cook and bake.  We love that she thinks of us often, and almost weekly, brings a sample of her delicious creations.  She is an easy going, funny, simple, and kind-hearted lady who is loyal to her friends and co-workers.  I hope you enjoy, as we do, her contagious welcoming smile.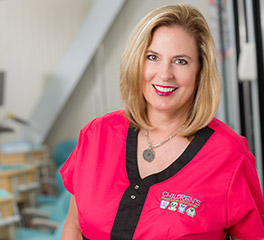 Kris
Orthodontic and Pediatric Dental Assistant / RDA (Registered Dental Assistant)
Kris is our most senior Pediatric and Orthodontic Dental Assistant who has been with us since 1973!  She first started her dental career in 1968 and soon after joined Dr. Whitcomb (1973).  She has worked with Dr. Surillo since he started in 1996. 
Kris truly loves people, especially children.  She enjoys making the dental office a fun place for children of all ages and strives to create a home away-from-home safe place for them.  Honesty is very important to Kris.  She strives to let all of our patients know this.  She is known for always saying, "I will tell you the truth".  She also likes to live by the Golden Rule: treat people the way you want to be treated.  And it shows!  All of our patients love to be seen by Kris.  Many, are third generation patients whose parents and grandparents remember her from way back then.  She is exceptionally good at talking to patients at their level, and helping them through their visit by having the biggest and kindest motherly heart.
When Kris is away from our office, she enjoys spending time with her husband and two grown children.  She is also very active with her church.  When Kris becomes your friend, it's usually a forever friendship.  She has a large group of friends she routinely gets together with, including many from kindergarten.  When Kris is not with them and or with family, she enjoys gardening and striving for social, spiritual, physical, and emotional balance.  Kris is also passionate about jewelry and "bling".  The more "bling" the better!  Her biggest "bling" though, is her contagious smile that can brighten anyone's day.  We are truly blessed to have such a wonderful person that cares so much about children's well being as well as that of their parents and our fellow staff members and with so many years of experience.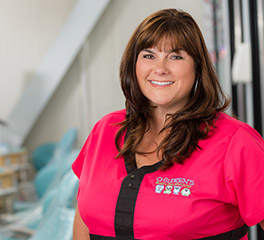 Stephanie
Orthodontic and Pediatric Dental Assistant / RDA (Registered Dental Assistant)
Stephanie is another of our old-time favorite dental assistants.  She has been with Dr. Surillo since 2004.  Stephanie was born and raised in La Mesa and is a proud former Helix Highlander.  Immediately after high school, she attended Grossmont College and studied Child Development.
She has has been a Registered Dental assistant since 1999 and started her dental career in General and Cosmetic Dentistry.  Stephanie found her true passion and joy in Pediatric Dentistry soon after joining a well known pediatric dentist in Hillcrest.  Stephanie is a confident, caring, fun person.  Her outlook in life is that there is always something that can be learned from our patients and from life itself.  She feels this office is her "work home' and plans to work here until retirement age.  Stephanie believes in Dr. Surillo's work so much that she herself had orthodontic treatment with him, as well as her husband, both of her children, mother, her nieces and nephews and her personal  friends from Little League, Pop Warner football and her children's school classmates.  She seems to be our walking billboard!
Stephanie loves helping transform smiles with her TLC.  The best part of her job she says is getting a nervous patient to be able to leave with a confident smile on their face.  When it comes to dentistry for children, she has a special place in her heart for our "special needs patients" too.  Stephanie is famous for always saying "are we having fun yet?"  She enjoys making everything fun for our young and teenage patients.  She also likes to be silly with them.  Stephanie really gets to know our patients and their families and she looks forward to seeing the patients she attends to, grow up with us. 
Stephanie is married to her best friend and high school sweetheart and has two wonderful boys.  They enjoy camping together, cooking and family game nights.  She also enjoys spending time with friends, attending her son's sporting events, and band performances.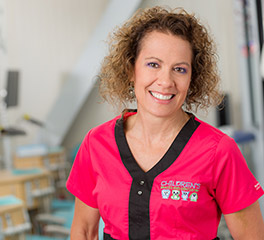 Judy
Orthodontic and Pediatric Dental Assistant / RDA (Registered Dental Assistant)
Judy is one of our old-time (don't tell her that) and highly regarded and trained orthodontic and pediatric dental assistant.  She grew up in San Diego next door to a dentist and used to watch him work in his laboratory as a child.  Dr. Whitcomb was her sister's pediatric dentist and of course, when she decided to go into dentistry for children, she chose pediatrics and Dr. Whitcomb's office in 1981.  After raising 4 wonderful boys who are all adults now, she returned to Dr. Whitcomb and Surillo in 2002.
Judy enjoys working in our dual specialty practice and truly likes engaging with our patients.  Talking with children and making them feel at ease is her true specialty.  They have so much to say and Judy is a great listener.
Judy spends her free time with her family of four adult boys, their wives and grandson.  Loves the beach and being outdoors, BBQ's, and hiking.  She also has a passion for nutrition and weight lifting and wholeheartedly believes in a healthy mind-body