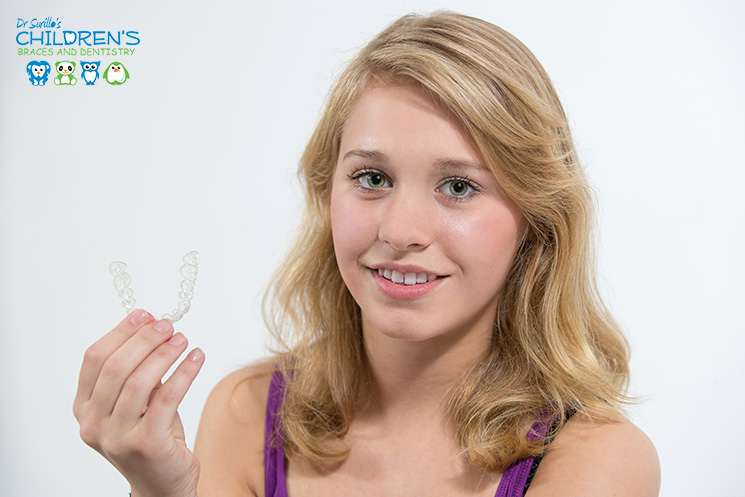 San Diego, CA – If your teen is in need of orthodontic treatment, chances are good he or she isn't looking on the bright side of things. At Dr. Surillo's Children's Braces and Dentistry, we know the teen years can be hard. That's why we love Invisalign Teen and the benefits it offers our patients.
Top Benefits of Invisalign Teen
Virtually invisible – The custom made aligners are made from a clear plastic that will make them almost invisible to others. You can get the beautiful smile you want, without having your treatment stand out.
No restrictions to your diet – With standard metal braces and even other clear and ceramic braces options, you have to avoid certain foods while in treatment. But with Invisalign, you simply remove the aligners when eating and drinking, so you don't have to miss out on your favorite foods while in treatment.
Take better care of your teeth – Because the aligners are removable, you remove them before brushing and flossing. There are no brackets or wires to brush around, so you can keep your pearly whites as clean as possible.
Easy to use – There are no appointments to tighten your braces. You simply wear your aligners for about 22 hours each day, and when scheduled, change your aligner set out for a new one. Each set will be perfectly calibrated to guide your teeth to their new locations, so the end result is a beautifully straight smile.
Comfort – The aligners are made from a smooth plastic, so there are no brackets or wires to irritate the inside of your mouth. And since there are no adjustments, you don't have to worry about feeling that discomfort every few weeks.
Play sports and instruments without worrying about your braces getting in the way – With metal brackets and wires, you have to worry about damaging your mouth with certain sports and even playing certain instruments. That won't be the case with the smooth Invisalign aligners.
Peace of mind for parents – If you are concerned that your child might not wear the aligners as required, don't worry – each aligner has a special indicator that can tell the orthodontist if your teen is wearing them as they should.
Don't worry about losing them – Invisalign Teen treatment includes replacement aligners should a set get damaged or lost during the course of treatment.
As effective as traditional braces – In most cases, Invisalign Teen can be as effective as traditional metal braces in treating malocclusions. Your orthodontist can better determine if your teen is an ideal candidate, but Invisalign has become so advanced that most teens will be able to use the aligners for treatment.
Cost – While treatment cost varies around the country and depending on the severity of the issue being treated, in most cases Invisalign treatment will cost roughly the same as traditional braces.
If you are interested in learning more about how Invisalign Teen might help your teen, call Dr. Santiago Surillo today at 619-461-6166.