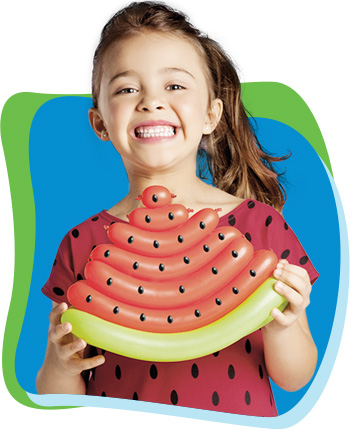 El Cajon Pediatric Dentist
Key to a lifetime of excellent dental health
At Dr. Surillo's Children's Braces and Dentistry, we are dedicated to excellence in pediatric dentistry and orthodontics for infants, children, adolescents, and young adults. Our dual-specialty dental practice features a team of exceptional doctors who are committed to providing children with a lifetime of dental health.
Each of the doctors at our practice is highly qualified in pediatric dentistry, orthodontics, or both! They all strive to create a warm, friendly environment at the practice, so every child feels comfortable and safe during their appointment. When you become a part of our extended patient family, you can rest assured that your treatment is among the best San Diego has to offer.
At Children's Braces and Dentistry, many of our patients are from the neighboring city of El Cajon. If you are on your way to an appointment with us, simply take the 8-W and exit El Cajon Boulevard. Then, take a right on Baltimore Dr, a left on University Ave, and another left on Allison Ave. Finally, you'll take your final right turn on Dale Ave to see our office on the right.
There is a spacious lot right outside our office where you can park your car. We look forward to meeting you!
Dental Tips for El Cajon Patients
Going to the dentist can be nerve-wracking, especially if you haven't been taking the best care of your teeth. Here are a few tips for you and your family, so you can head to the dentist's office with confidence!
Brush thoroughly. It may seem obvious, but not everyone take the time and care to brush their teeth thoroughly every day! Practice brushing with your child for the full two minutes twice a day.
Use fluoridated products: Ask the pediatric dentist what how much fluoride is appropriate for you and your child to use. If your city doesn't have fluoridated water (like El Cajon), you can still get it from other dental hygiene items, like toothpaste and mouthwash.
Floss, floss, floss. Though it may seem like a dental afterthought, floss is one of the most important parts of your oral hygiene regimen! If it's too hard to get to all the nooks and crannies with regular floss, you can opt for floss picks or a water flosser.
Schedule biannual appointments: Not going to the dentist for a long time is sure to build up nervous anticipation for the event. By going to the dentist twice a year, your teeth will get the TLC they need when they need it.
Our Doctors at Children's Braces & Dentistry
Meet our friendly dental team at Children's Braces and Dentistry! All our doctors have been thoroughly trained in their specialty and they can provide your child with the attentive, specialized treatment they deserve.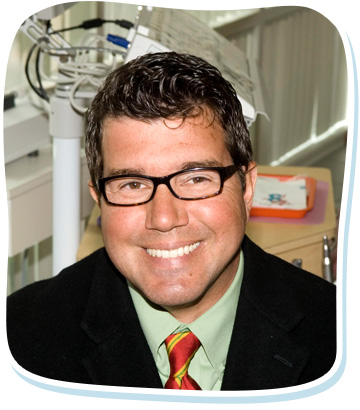 Dr. Santiago A, Surillo is a dual-trained specialist in Orthodontics and Pediatric Dentistry from UCLA School of Dentistry (1995) along with a Master of Science in Oral Biology. He completed his Bachelor of Science (B.S.) degree in Biological Sciences at Fairfield University in 1983 and earned his Doctor of Dental Surgery (D.D.S.) degree from Indiana University School of Dentistry in 1987. Dr. Surillo is also a Board Certified Orthodontist by the American Board of Orthodontics, and is highly trained and experienced in the treatment of multiple dento-facial problems that may arise in growing children of all ages. His warm, caring, and generous demeanor towards his young patients and parents has helped establish our office, as one of the friendliest in La Mesa, El Cajon, and San Diego.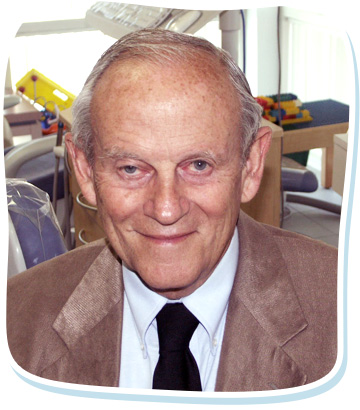 Dr. Whitcomb
Dr. Kenneth R. Whitcomb received a Master's Degree in Education from San Diego State University and subsequently his Doctor of Dental Surgery (D.D.S.) degree, as well as his certificate in Pediatric Dentistry from Loma Linda University School of Dentistry. His post-graduate training was in part funded by a grant from the Cerebral Palsy Foundation. Dr. Whitcomb is a member in good standing of the San Diego Dental Society, the American Association of Pediatric Dentist, the American Dental Association, the California Society of Pediatric Dentists, and he is a Diplomat of the American Board of Pediatric Dentists. His years of experience combined with passion have helped him achieve a reputation as one of the best in the industry.
The American Academy of Pediatric Dentistry recommends parents start taking their children to the dentist as early as their first birthday. Our doctors, Dr. Whitcomb and Surillo, are both board-certified pediatric dentists who can provide accurate diagnosis, tooth guidance and appropriate orthodontic intervention that will ensure the best possible results.
Dental cleaning: Our pediatric dentists will explain the cleaning procedure every step of the way
Fillings: If your child has a cavity or toothache, we can fill it right away, since our office is right by El Cajon. It's important to treat tooth problems early on, so they don't cause serious complications later on.
Fluoride treatments: El Cajon does not provide systemic fluoridation in its water, so your child may need a fluoride treatment to fortify their enamel.
Sedation: If your child is nervous about going to the dentist, we also offer nitrous oxide analgesia, conscious sedation, general anesthesia, and outpatient general anesthesia.
Dental Crowns:

Dental crowns are nothing to be afraid of! It is more common for adults to have to get dental crowns, but that does not mean that children may not also need them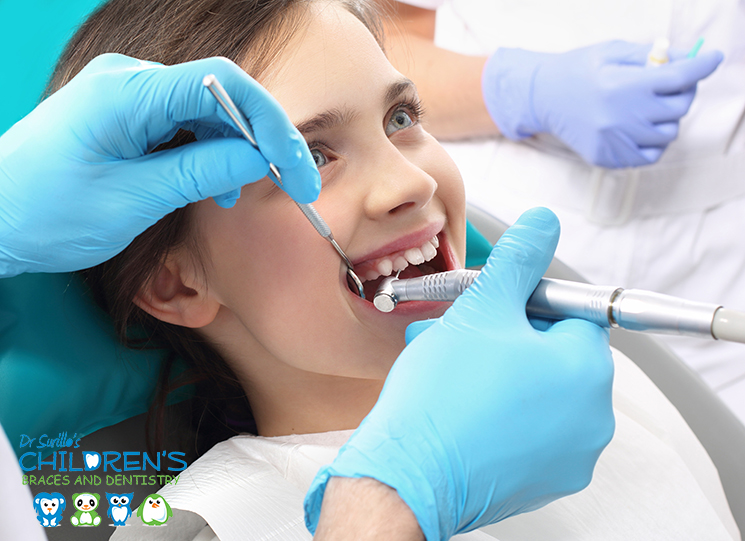 We understand it can be a hassle driving to and fro when your child is getting braces.
Children's Braces and Dentistry is conveniently located just 10 minutes from El Cajon, so patients can easily get to appointments from both the freeway and the streets. We also offer many orthodontics options that can also reduce the number of visits required. Check them out below!
Traditional Braces: Our traditional metal braces are a tried and true method of aligning teeth correctly. An archwire is held by metal brackets and elastic ligatures that push the teeth into the correct position.
Damon Braces: These braces use a self-ligating mechanism to automatically adjust braces, so less appointments to the orthodontist are required.
Invisalign for Teens: Kids who are involved with extracurriculars like sports, theater, etc, may find braces inconvenient. Invisalign is a clear, removable tray that will correct the teeth just as well as regular braces. Ask the orthodontist for a few trays at once to skip a extra trips to the orthodontist.
The American Association of Orthodontics recommends that every child have an orthodontic evaluation by an Orthodontist as they approach the age of 7. The orthodontist is not only evaluating your child's dentition, but also the overall growth and development of their jaws, face and supporting structures. If needed, two-phase treatment can be used to correct and guide the teeth and jaws for later on.
The first phase of two-phase treatment is dedicated to the position, size, and symmetry of the jaws and balance of the bite. Orthodontic treatments and methods are used to create a stable structure early on. Not only is having this necessary for the correct alignment and spacing of teeth, it's important for basic functions like breathing, chewing, and other oral habits. When treatment is initiated in this phase, it's often very successful and can even eliminate the need for future orthodontic or surgical treatment.
If a second phase of treatment is needed, the orthodontist will examine how your child's permanent teeth and jaws fit and function. Any bite problems will be addressed and the teeth will be straightened. Their will be an emphasis on correcting the jaw joint, occlusion, periodontal tissues, and maturation of the facial profile. This length of this phase can be significantly reduced by undergoing the first phase.
FAQ
Do not be upset if your child has a fear of a pediatric dentist. It is very common for children to have dental fears. Before visiting your pediatric dentist in El Cajon, prepare your child for their dental visit by getting them comfortable with the process that will take place during their exam.

Anxiety is very common when children go to a pediatric dentist. Our pediatric dentist in El Cajon wants to help your child deal with their anxiety. When they come into the office, we help your child feel comfortable as they walk into our kid-friendly environment. They will see other children already inside playing or watching TV, which will help ease the anxiety.

Your child should see our pediatric dentist in El Cajon when their first baby teeth start to erupt. The sooner you can get your child to their first pediatric dental appointment, the better our dentists can care for their teeth over time. We want our patients to learn good oral hygiene at an early age.

Just like a pediatric dentist, a pedodontist in El Cajon also specializes in dental work and issues that have to do with teeth, gums, and jaw of children. They also focus on the development of the mouth as the children grow up, and their teeth over time become permanent.

If you are curious, a dentist for children is called a pedodontist or a pediatric dentist. Our pedodontist in El Cajon has received years of extra education after dental school to work on children's teeth. If your child needs to be seen at our office, make an appointment today.

Dental procedures that are performed by a pedodontist in El Cajon include tooth extractions, pulpectomy, and dental crowns. We offer other services, and they can be found on our Children's Braces and Dentistry website!
Testimonials from El Cajon Patients
★★★★★
I've been taking my 18 year old son to see Dr. Whitcomb or Dr. Surrillo since he was 2 years old.  I love the atmosphere and warm vibes every single time we enter for our checkup. The staff has shown love and care to each and every single mini-patient they see and you can tell they truly adore their jobs.  My son has had several fillings over the years and to this date, he still walks out of the office smiling and with another positive experience. Although I hear that Dr. Whitcomb is now entering (entered?) retirement, I think that Dr. Surrillo will continue the excellent and personalized service that I come to love about this place.  Highly (!) recommended!!
Susan C.
We are always met with smiles & such pleasant people when we enter into the office.  The service is beyond professional & caring. The ladies who work in the back with the patients are so thorough & gentle.  My son absolutely loves the staff there & we get the best care. We highly recommend them to anyone.
Tricia L.
I love this practice!! My daughter went in for her cleaning today, and when her hygienist realized that next week is my daughter's birthday, left and came back with a signed card and a Jamba Juice gift card. My daughter felt so special and cared for. Thanks for always paying attention to the little things. We notice!!
Kerri S.