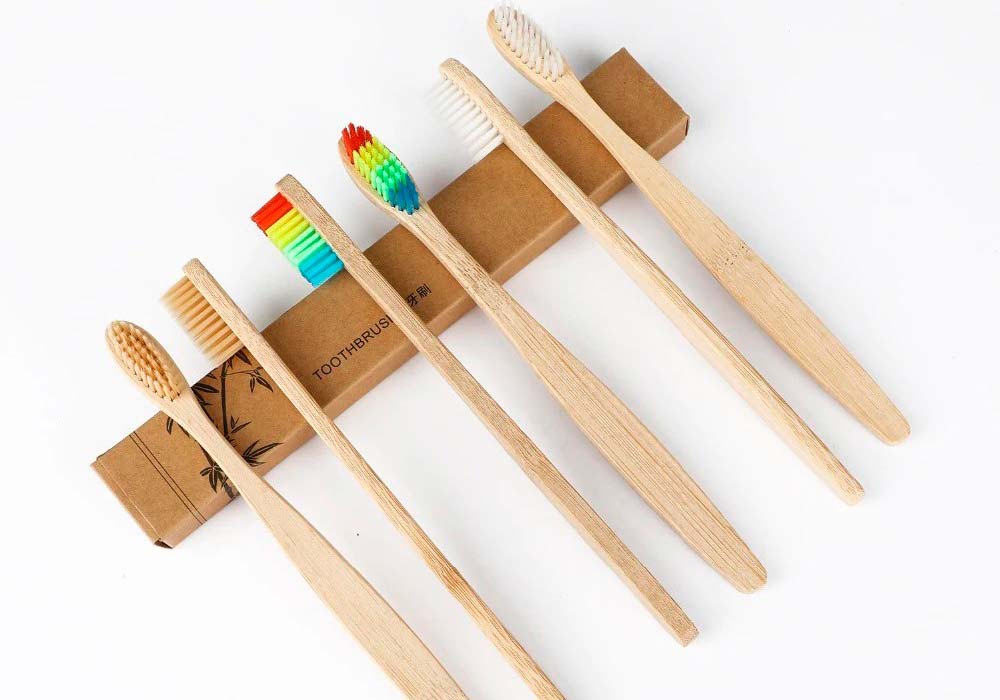 If you've established a regular dental care routine with your family and dentist, then congratulations! You're creating the basis for strong, healthy teeth and gums. At Children's Braces & Dentistry in El Cajon, we love hearing about our patients' healthy dental habits. 
After all, preventative care is the first step to maintaining strong, healthy teeth. It's something that needs to be practiced constantly and carefully. Simple acts like brushing and flossing can help prevent cavities and gum disease from ruining your beautiful smile. 
On that note, we also want our patients to be aware of how they are affecting the environment with their day-to-day actions – including how they take care of their teeth. Unfortunately, a lot of plastic and toxic waste is generated each year by single-use dental products. 
Yes, dental care is necessary, but it doesn't need to be harmful to the environment. How you ask? Let's get into it! 
Compostable oral hygiene
Most toothbrushes, toothpaste, mouthwash, and floss are packaged in plastic. Considering how often we use (and dispose of) our oral hygiene tools, this ends up creating a lot of waste!
A more eco-friendly approach to oral hygiene is to invest in better products. Here are a few ways you can get started right here in El Cajon! 
Toothbrushes
Instead of throwing out your old toothbrush every 3 months, invest in a toothbrush with replaceable heads. Electric toothbrushes last anywhere from 3 to 5 years. That's a lot less waste! Just make sure to dispose of or recycle the batteries appropriately. 
You can also get toothbrushes made of natural, recycled materials. Unlike plastic, which takes hundreds of years to disintegrate, bamboo and wood brushes are completely biodegradable. When they're disposed of, they won't pose as much of a threat to wildlife and the environment as plastic. To learn more about your options, head over to this eco-friendly oral care blog from New Generation Dentistry. 
You can easily find these types of toothbrushes at your local Walmart or Target in El Cajon! 
Toothpaste
While there's nothing wrong with toothpaste, the tubes that encase it are usually made with plastic and aluminum. Once the toothpaste is finished, these tubes are thrown into landfills. 
For zero-waste toothpaste, you can make your own! There are tons of instructions to do so online, but make sure to check with your dentist for approval first. 
Another option is to switch to a toothpaste brand that uses paper or glass jars to hold its products. For example, you can order toothpaste tablets or powders that come in paper boxes. You simply chew these up with water then brush like normal!
If you don't want to increase your carbon footprint from shipping, you can also pick up Dr. Bronner's 100% recyclable organic toothpaste from your local drug store in El Cajon. Walgreens and Rite Aid usually have sustainable brands in stock. 
Floss
Flossing is extremely important for maintaining your gum health, but most brands of floss are not biodegradable and use excessive plastic packaging. Luckily, there are companies out there that recognize this problem. Now, there are tons of compostable floss alternatives! Some of our favorites include mulberry silk and polyester fiber flosses. If you have sensitive gums, a Waterpik is a great way to get between the teeth without all the waste! 
If you don't have the time or funds to invest in sustainable oral care, you can always do the next best thing – recycle! Colgate and Terracycle have partnered to recycle all oral care products. All you have to do is save up all the old oral care packaging in a box, sign up for the program, and ship your waste away to be recycled. The products are then shredded and turned into new packaging.
Water conservation
If you don't already, one of the easiest ways to help the environment is simply by turning off the faucet when you brush your teeth. Sure, it's just two minutes, but those two minutes add up! If approximately gallons of water flow out of your faucet every minute you leave it on, then brushing twice a day, 365 days a year, for two minutes each time would result in 732 gallons of water being wasted! 
A great way to conserve water is by measuring exactly how much you need when you brush. Use a cup to measure out an ounce of water for rinsing your mouth. If you need more, add another ounce. With this method, you can find out exactly how much water you need to get your teeth sparkly clean without wasting a drop. Plus, you'll save on water bills! 
The same logic goes for bathing, watering plants, and washing clothes. Every second counts, so don't let your water run longer than it has to. You can learn more about water conservation in every aspect of your life with the Water Conservation Garden in El Cajon. 
Digital dentistry
The next time you see your dentist, check if they have digital dentistry equipment and billing options. Not only do high-tech dentists provide more advanced dentistry techniques, they're also helping the environment. A few examples of digital dentistry include: 
Digital x-rays: Unlike regular dental x-rays, digital dental x-rays eliminate the need for toxic x-ray fixer solutions and foil. They also provide higher quality imaging and reduce radiation exposure! A win-win! 

Laser technology: Using laser dentistry to treat dental decay, gum tissue procedures, and teeth whitening is eco-friendly because it results in little to no waste. Plus, laser dentistry is a lot less invasive than regular dental scaling and root planing. 

CAD/CAM systems: The ability to create restorations from dental impressions in-house cuts down on the energy used to package and transport from another dental lab. This greatly reduces the dentist's carbon footprint! 

Electronic billing: Last but not least, you can ask for electronic billing instead of paper billing. Though it may not seem like much, switching to online transactions helps reduce waste in the long run. It's also easier to keep track of e-statements than it is to keep track of hard copies. 
The next time you visit your pediatric dentist or orthodontist in El Cajon, ask if these options are available! Most dentists are always looking for ways to go green and help the environment. 
At Children's Braces & Dentistry, we try our best to be as kind to Mother Nature as can be! Teaching kids how to take care of their teeth in eco-friendly ways will benefit them in more ways than one. Saving the earth with sustainable dental care will give them strong, healthy teeth and a great reason to smile. We want the El Cajon community to be just as wonderful in ten years as it is now, so let's all do our part to help!