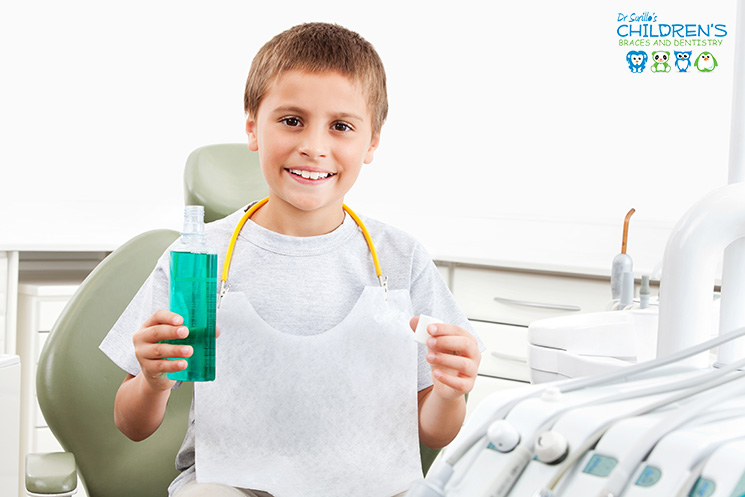 San Diego, CA – Chances are excellent you use mouthwash as a part of your daily oral hygiene routine. But should you be doing the same for your children? San Diego pediatric dentist Dr. Santiago Surillo shares his thoughts.
"There are a host of mouthwashes on the market today, ranging from ones that are aimed at preventing tooth decay, to reducing plaque, to preventing gum disease," says Dr. Surillo. "But are these safe for your children? It's important to look for several things when looking for a mouthwash for your child."
The first thing Dr. Surillo tells parents to look for are mouthwashes specifically geared towards children. This is an important first step because these will be alcohol free and more gentle on your child's mouth than an adult mouthwash would be. Mouthwashes for children will typically be in flavors they enjoy, like bubblegum. The majority of children's mouthwashes will be therapeutic, meaning they will aim to both treat causes of bad breath as well as prevent cavities.
The American Dental Association's seal of approval is another important thing to look for. This seal shows that the mouthwash has been proven not only effective, but safe, as well. You can rest easy knowing that the mouthwash has been subjected to rigorous testing by an organization that takes our child's oral health seriously.
"I know more people are looking for organic and all-natural health options these days," says Dr. Surillo. "But, when it comes to the health and safety of your children, it is important to stick to what organizations like the ADA have approved. There are a million home remedies you can find, but looking for that ADA seal will signify that the product has been tested and found safe for your child."
So, when you find the right mouthwash, when is the best time to introduce it to your child's oral hygiene routine?
"As a general rule of thumb, I advise parents not to introduce mouthwash until a child is around six years old," says Dr. Surillo. "At this age, the child will be able to adequately swish the mouthwash in the mouth and, most importantly, spit it out without swallowing it."
If you are wondering if mouthwash might provide added benefits for the health of your child's mouth, speak with your pediatric dentist. Dr. Surillo can recommend mouthwashes that will be safe, and can offer tips for how to best introduce it. Call his office today at 619-461-6166.