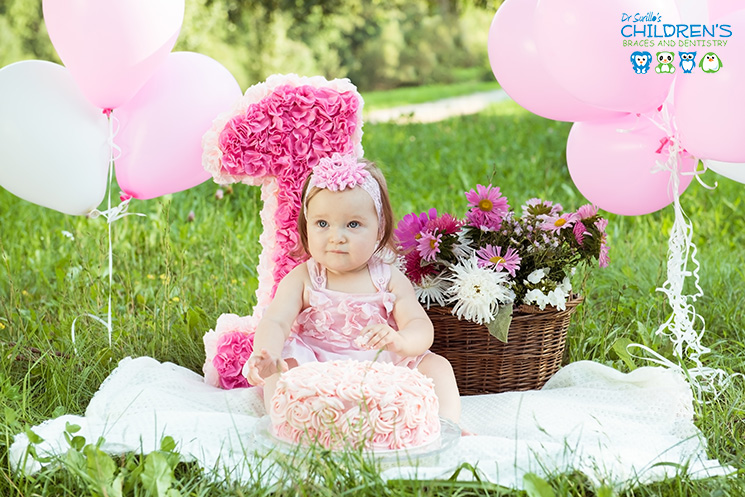 La Mesa, CA – The American Academy of Pediatric Dentistry recommends that children see a dentist for the first time by their first birthday. Dr. Santiago Surillo, a La Mesa pediatric dentist, agrees. This may be surprising to some, but early childhood caries, or tooth decay, continues to be a chronic issue affecting children. But starting a relationship with a dentist at a young age can help your children make their oral care a priority.
So, what should you know to prepare yourself for your child's first visit?
Choosing a dentist
Choosing the right dentist can be a difficult choice. Dr. Surillo encourages parents to look for a pediatric dentist. This is important because a pediatric dentist will be specially trained to treat children and the unique issues that accompany them. Their offices will be catered to children, offering a warm, welcoming, and fun environment, and they'll have equipment catered to the needs of even the youngest children.
"It may be tempting to simply take your child to your dentist when the time comes," says Dr. Surillo. "But I strongly urge parents to look for a certified pediatric dentist. This will ensure that the dentist you choose has experience working with children and understands their needs. Children can often be apprehensive about visiting the dentist, but a pediatric dentist will be trained in how to help children feel comfortable."
Additionally, you want to choose an office that is welcoming and friendly to you and your child, who is caring and responsive, and who engages in dialogue with you. One of the most important components of early dental visits is the education piece, where the dental staff can help parents learn how to better care for their children's mouths. The dental staff should also be open to questions and concerns and should be willing to discuss these with you.

Preparing for the visit
Once you've chosen your pediatric dentist, it's time to prepare for the visit. On your end, be sure that you have your dental insurance information, and any pertinent health information, ready for the dentist. If your child is a bit older prior to the first visit, you can read books and talk about the important role a dentist plays in keeping us healthy. Children often respond to visuals, so books that can explain what to expect through the use of pictures can be helpful. One of the most important things for you as a parent to do is to frame the appointment in a positive light. If your child senses apprehension or fear from you, it can lead to the same feelings for them.
On the first visit
At your child's first visit, the dentist and the staff will review your child's history, discuss any questions or concerns you may have about your child's oral health, and talk with you about how your child's overall oral health. Then, there will be a thorough exam.
For younger children and infants, these exams work best in a Knee-to-knee position. You will sit in a chair facing the dentist and your child will sit on your lap facing you. The child will then lie back so his or her head rests in the lap of the dentist. This allows your child to still be comforted by you if needed and allows both you and the dentist the chance to see into the child's mouth. In this position, the dentist can:
Show you how to properly clean your child's teeth and gums
Give any specific advice, such as the use of fluoride, toothpaste, and other home care
Explain what to expect as your child's mouth continues to develop
Also at this appointment, your dentist will discuss with you a proper diet to encourage good oral health, and discuss any negative habits that could affect how your child's mouth develops, such as thumb sucking, pacifier use, and proper bottle use. You should also be given time to ask questions or address any concerns you may have.
"We want you to leave the first visit with us feeling empowered and educated to help your children take the best possible care of their oral health," says Dr. Surillo. "We are a team, and together we can ensure healthy, strong smiles for years to come."
Contact Dr. Surillo at Children's Braces and Dentistry today for a free consultation.