Invisalign for Kids is a highly-specialized treatment option. When it comes to children, special needs are in order. Dentistry and orthodontics are no exception to this. SPediatric dentists are in charge of the critical task of teaching how important it is to maintain good oral health during infancy.
Because taking your kids to see a dental expert twice a year is not enough if the rest of the time you don't follow their instructions. Dr. Surillo is aware of this situation, and that's why he dedicates to providing the most complete dental service in San Diego.
Kids need to protect their future teeth through early orthodontic care and pediatric dentistry in San Diego. Dr. Surillo Braces and Dentistry is one of the very few dental clinics in the city that specializes in both disciplines. Your kid does not need to like two different doctors since they will have a dentist and orthodontist in one.
Especially in orthodontics, preventive treatment is the best way to go for kids. Pediatric orthodontists can diagnose most of the malocclusion problems we see in teenagers and adults. But parents and children both worry about having to wear braces.
First, you need to know not all orthodontic treatments mean metal braces. There are other orthodontic appliances less invasive, even for teeth alignment patients. Cutting-edge technology is also available for kids at our dental office.
Worrying about your child becoming a patient of traditional braces is understandable. You have to consider that braces are completely safe and highly efficient, and on the other hand, Invisalign treatment is removable and comfortable.
Removable aligners for kids indeed make the entire process much simpler.
What Is Invisalign First? Is My Kid a Candidate?
At our dental clinic, we have Two-Phase orthodontic treatment for children with baby teeth. Specialists usually recommend starting orthodontic care at seven or eight years of age, but nowadays' treatment plans are more advanced than that.
A child can receive orthodontic checkups by the age of two or three as soon as their teeth are complete. Of course, your kid will not wear braces in this early stage of life, but the dental expert can check everything is happening as it should and prevent or prepare for future issues.
In the cases where it is necessary, phase I of the Two-Phase treatment starts at the age of five. In this phase, pediatric orthodontists work on developmental issues in the facial structures. The goal is to help the proper jaw growth and bite alignment.
Invisalign First is a great option for Phase I treatment since clear aligners make the process less invasive and much more comfortable. And because the aligners are transparent, children do not worry about their appearance.
Phase II treatment is what we know as orthodontics for teenagers. It starts at the age of twelve and focuses on correcting the alignment of permanent teeth like different types of malocclusions.
An orthodontist supervising your child's dental development will determine the right time to start treatment with appliances like Invisalign, regardless of your child's age. Taking your child to a pediatric orthodontist is the best way of protecting their smiles.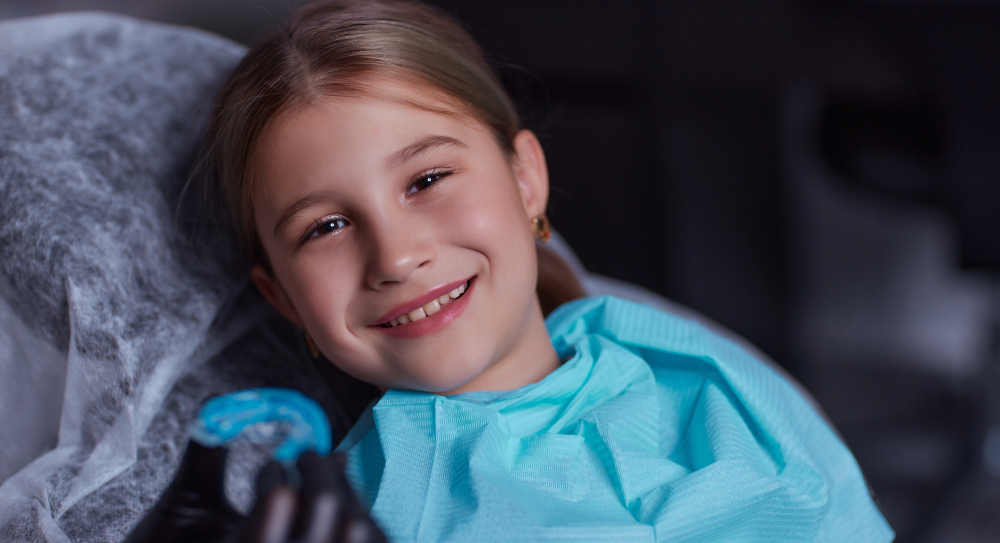 How Can Invisalign Help Kids?
We often find lots of parents under the misconception that orthodontic care is only for children with permanent teeth or teenagers. Baby teeth play a crucial role in the growth and development process of the face and mouth of a person.
Misaligned teeth cause pain, speaking problems, and dental hygiene issues since they are harder to clean. Early orthodontics achieves a level of prevention that will save you and your child time and money.
Invisalign for kids works the same as for adults. Clear aligners are resistant and transparent, so the looks are not a problem. Your provider will give you custom-made molds for your child's teeth to make sure the aligners will fit without trouble.
Conventional braces can correct more complex issues, but pose a difficulty to the oral hygiene routine and even to the diet of your kid. So, if you are worried about this, Invisalign is for you since the appliances are removable.
Even though teeth under Invisalign treatment are easier to clean, if your kid fails to frequently and thoroughly clean them, harmful bacteria will feed on the food particles left in their mouth, tartar will build up, and the outer layers of your kid's teeth will begin to erode.
How to Clean Invisalign for Kids?
Once they start the treatment plan, we have to ensure that everyone plays their part in the treatment's efficiency. A quick answer to a frequent question: You should wash Invisalign trays daily, but it's not recommendable to brush them with your toothbrush.
Step one: Rinse the trays with warm or lukewarm water. Slightly rub with your fingers.
Step two: Add soap (you can use dish soap).
Step three: You can use your fingers again to remove any visible particles left, and then use a toothbrush with very soft bristles to gently brush the surface.
It's crucial to be as gentle as you can and use a soft toothbrush because if you brush your Invisalign trays too hard, they will lose transparency.
Remember to let your kid know they should take off their aligners whenever they choose to grab a quick bite or drink anything sugary. Some drinks, such as black tea and cola, can stain your kid's clear aligners.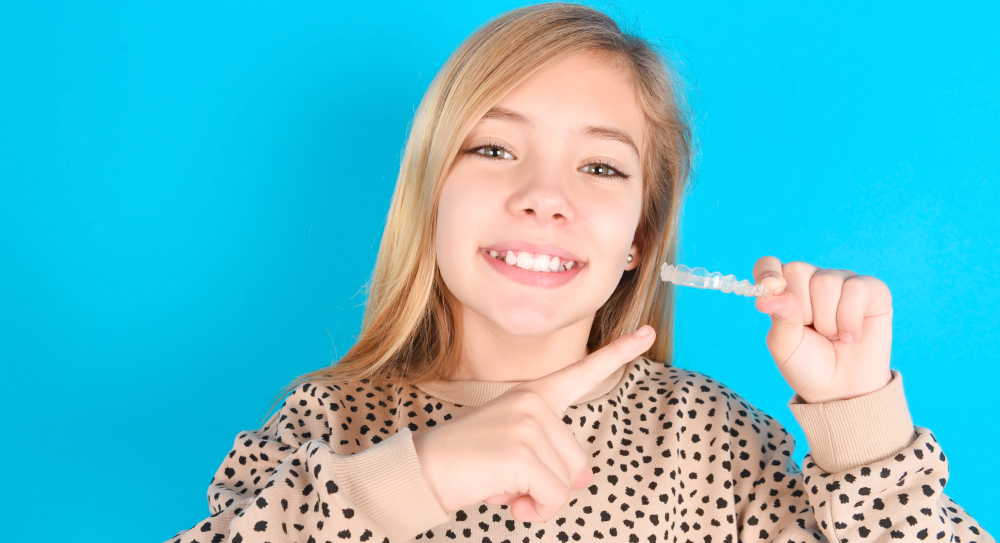 Why Is Dental Hygiene So Important?
Tooth decay can ruin the work you, as a parent and your child's orthodontist, are putting together with so much effort. Cavities can lead to tooth loss, gum disease, and pain.
For your kid to lose a baby tooth, it means to risk the health of the permanent one; that's how serious dental health is. How can you prevent tooth decay? The best way is the one you already know: ensuring your kid has good oral hygiene.
Not to mention the social problems it can cause for a kid in a scholarly environment. You don't want your child to become the kid who gets names after their bad breath or decayed teeth.
The answer to this question will depend on you, your kid's needs, and the doctor's diagnosis.
If your child's orthodontist says they are a candidate for Invisalign pediatric treatment, we recommend you follow this path since in some aspects can be easier to handle.
But keep in mind that invisible aligners patients have to wear their trays for around twenty hours a day, and patient compliance is mandatory. This type of commitment can be hard for an infant, and we know you probably prefer to keep it simple.
Traditional metal braces are highly efficient in a significant number of cases, and kids enjoy wearing colorful elastics.
Ask Our Doctors for the Best Orthodontic Treatment for Kids
At Dr. Surillo Children's Braces and Dentistry, our team is ready for you and your questions. Taking care of your child's bright smile is our passion.
Request a first appointment to meet our specialists and familiarize yourself with our clinic, and then we can move to the 'Invisalign for kids' or 'braces for kids' questions.