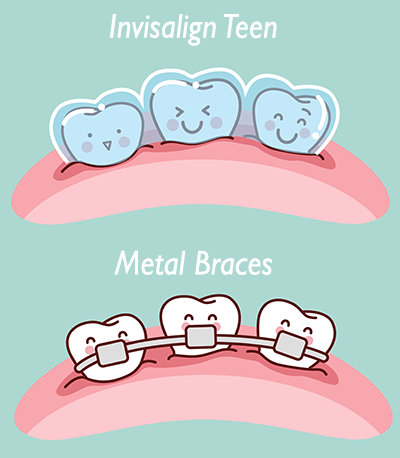 La Mesa, CA – When it comes to orthodontic treatment today, there are more options than ever before. Lingual braces, self-ligating braces, clear aligners, and metal braces – how can you know which is the best for you? Dr. Santiago Surillo, an orthodontist in La Mesa, lays out the pros and cons of two popular options, standard metal braces, and Invisalign Teen.
Traditional Metal Braces
"There is a reason why metal braces have been around for so long and continue to be used today," says Dr. Surillo. "They are effective. And today's are sleeker, more comfortable, and more effective than ever before."
Today's braces have come a long way. When you think of them, the term "metal mouth" may come to mind, but today's metal braces are much less invasive and obvious than those of yesterday. Advances in technology have allowed for smaller brackets, and even the use of heat-activated archwires that use the body's own heat to help the process along.
Parents love the options of metal braces because they are the most cost-effective. The cost range for metal braces can run between $3,000-7,000, depending on the severity of the malocclusion, the orthodontist, and the part of the country you live in.
The cons to metal braces include the higher visibility – it's hard to hide the fact that patients have metal brackets and wires. Patients have to alter their diets during treatment, as well, avoiding anything too hard, sticky, or chewy to avoid damaging the brackets and wires. Additionally, it's important to step up the oral care routine to ensure food particles don't get stuck in the brackets and wires.
Invisalign Teen Clear Aligners
"The idea of Invisalign is attractive to a lot of patients because the aligners are virtually invisible and removable," says Dr. Surillo. "But, just like anything else, there are drawbacks, too."
Patients love that Invisalign is made from smooth, clear plastic. The aligners are comfortable and are custom created for each individual patient, offering a high level of precision. Because the aligners are removable, patients don't have to alter their diets or dental care routines.
But there are some cons and pros of Invisalign, One if its greatest advantages, being removable, is also a disadvantage. Because the aligners can be taken out, it can be tempting to remove them for a big occasion or event or start minimizing the amount of time they are worn. But to be effective, Invisalign must be worn a minimum of 22 hours a day. Failing to wear them as directed can lengthen your treatment time.
Invisalign also isn't the ideal option for every orthodontic patient. Some cases are simply too complicated for Invisalign alone. Some patients who choose Invisalign for aesthetic purposes find that in order to reach their smile goals, they also have to use elastics or buttons to achieve the ideal tooth movement. The cost of Invisalign ranges between $4,000 and $7,400.
"At every first consultation, I create a custom treatment plan for each patient," says Dr. Surillo. "It includes my professional opinion on what orthodontic treatment is the best option to both fulfill the patient's smile goals and meet their budget. Our goal is always a beautiful, well-functioning smile that doesn't break the bank."
To learn more about the orthodontic options available to you, schedule a consultation with Dr. Surillo at Children's Braces and Dentistry today. Call 619-461-6166.